Welcome to
Lincoln Consolidated Schools
Lincoln Consolidated Schools provides an exemplary educational experience where students develop the foundation for lifelong learning.
LCS News
COVID-19 Daily At Home Screening for Students
Parents/Guardians:
Please review this short list each morning before your child leaves for school. This is for home use. You DO NOT need to turn into your school.
Volunteers/Building Access 
Volunteers/ Building Access
District visitors, including parents/guardians, will only be able to enter buildings by appointment only. The District has to limit visitors to the buildings, and as a result, visitors and volunteers will only be permitted when necessary.
Following these procedures will ensure the safety of all of our children.
Thank you!
Kindergarten Enrollment Information
Kindergarten Enrollment Information

Childs Elementary
Bishop Elementary
Brick Elementary
Spanish Immersion
Employee of the Month

Congratulations to Kristen Greene, Title I teacher at Brick Elementary, for being named Employee of the Month for June, 2021. The Board of Education will recognize her at the June 14 meeting.
Thank you Kristen for all you do for Lincoln Schools!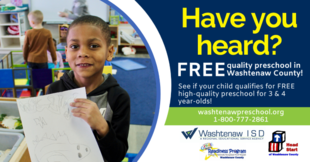 Lincoln Consolidated Schools is Now Accepting Preschool Students for the 2021-2022 School Year!
To see if your child qualifies fill out the form at www.washtenawpreschool.org If you do not have internet access or need assistance filling out the application call 1-800-777-2861.
If you have additional questions please call the Lincoln Early Childhood Office at 734-484-7043.
Spotlights
Community Message - June 12

Community Message - June 12
Dear Lincoln Family,
I hope you and your family are doing well.
As the 2020-2021 school year comes to a close, I want to take a moment to thank our entire school community. I'm so proud of how our staff and community rallied TOGETHER to take care of the amazing children of this beautiful community. I'm overwhelmed with pride when I think of the countless stories of people going out of their way to support one another. Our community can be seen as a model for the world the way individuals supported one another with kindness, compassion and love. A special congratulations to the Class of 2021!!
As we close out the 2020-2021 school year, and prepare for our summer programs, we are excited to say that we are planning to have students back for five days a week of in person instruction this fall. Our priority is to keep class sizes lower than in the past and to continue to offer interventions for students who may need additional support. We will also be offering our LCS Virtual Academy for families who prefer to stay virtual next school year. Please look for follow up communications and details throughout the summer.
As many of you know, there is a nationwide shortage of bus drivers. We are exploring a three tier busing option as a way to offer more consistent and reliable transportation starting in the fall. Currently we have a two tier model with HS/MS on one tier and all the elementary buildings on a second tier. A move to three tier would require a change to three separate start times. By moving to a three tier model we would be able to run fewer buses, provide better compensation to our bus drivers, and separate the middle school and high school students from riding the same buses. This would also result in start and end time changes for our buildings. Please look for more information and feedback opportunities regarding the three tier approach soon.
Please help us spread the word about student enrollment at Lincoln Consolidated Schools. Interested families can visit www.lincolnk12.org, email enrollment@lincolnk12.org, or call 734-484-7099.
The Master Calendar has been approved for the 2021-2022 school year.
Please help us continue to share the community resources to anyone who may need them.
Thank you,
Robert Jansen
Superintendent
Virtual Academy 8th Grade Recognition