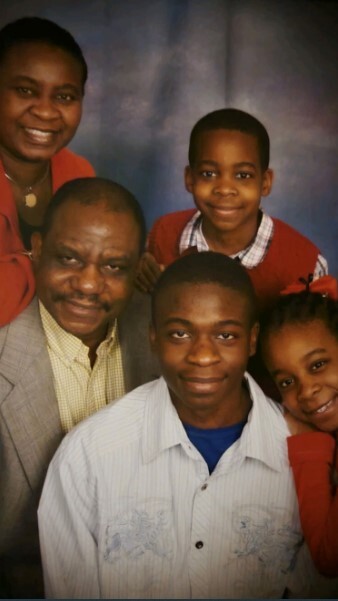 Team Akinbola have blazed a trail in the Lincoln community from day one. Drawn to Lincoln schools 20 years ago because of its open country style, friendly feel and beautiful new houses, mother Ibi says that they have never once regretted their decision to build their lives here. Ibi states that after growing up in a close knit, large family in Nigeria she hoped that they could find a second family at Lincoln and indeed they have! Ibi, who is a pharmacist, quickly found a place as a valued volunteer in the classroom, on field trips, band trips and PTAs at every school her children attended.
Ibi and Mukaila (trained as an engineer now working for the IRS) have three amazing kids who were very successful and active within Lincoln schools and continue to work hard and crush it in their young adult lives.
Opeyemi (Op) is a 2012 LHS graduate who was active in band and soccer. Op graduated from University of Michigan (UM) with a degree in mechanical engineering. He lives in Detroit and works for Chrysler.
Tolu David (Class of 2016) also played soccer and percussion in the LHS band. He is a senior electrical engineering student at UM and last summer interned in California with a utility company. David had the following to say about his experience. "Lincoln gave me too many good experiences to count. But the one I cherish the most is always being able to see friends and supporters I can count on."
Temi (Class of 2019) was drum major of the LHS band and played volleyball. She is a junior biomechanical engineering student at UM. Temi states "Lincoln is basically home to me. Sometimes I go back and along with being overjoyed seeing friendly faces again, I have so many good memories. These are rooted in Lincoln's music program, mentorship experiences, and my extracurriculars. I've truly met some lifelong friends in this district that I still see all the time post-graduation. Without the community and the resources, I wouldn't be here today speaking to you as a Michigan engineering student and a Spectrum Health intern. It makes me joyous to see the improvements that are occurring at Lincoln, and you know that it's forever GO BLUE!"
The Akinbolas would like to encourage younger parents to become involved in their child's education through volunteering and supporting their own and other people's children. Don't miss out on this time in your family's life. Get involved. There are so many Lincoln students going on to do amazing things and we knew them when we helped tie their shoes on a field trip! It is such a joy!