Parents and Students
Free Adult ESL & GED Classes
WCC Adult Transitions
IN PARTNERSHIP WITH WISD
@ Ypsilanti Township Community Center
Ypsilanti Township Community Center
2025 E. Clark Rd Ypsilanti, MI 48198
For more information please
CALL or TEXT:
Beth (734)858-8416
Laurie (734)833-4259
WCC Adult Transitions
In an effort to better serve students in Eastern Washtenaw County, WCC Adult Transitions has a new partnership with Washtenaw Intermediate School District and the Charter Township of Ypsilanti.
They are now offering both English as a Second Language (ESL) and a GED Pathway programs at the Ypsilanti Township Community Center. They provide comprehensive services to adult students who want to improve their English Language or academic skills to earn a high school equivalency certificate. This Career Pathway program also supports students in their transition to college, career training and jobs.
Visit the WCCGED Facebook page
School Closing Procedures
School Closing Info
Click to Check School Closings
SCHOOL CLOSING PROCEDURE
Any time there is inclement weather in the forecast, our transportation director and one of our mechanics check road conditions between 3:30 and 4:30 a.m. The school closing relay is then activated and the media and school personnel are notified. Check the following media outlets for up-to-date school information:
Local TV Broadcast Channels 2, 4, 7
Local Radio Stations WWJ/WJR
Lincoln Website
www.lincolnk12.org
Facebook/Twitter
School Messenger Calling System
---
How is the decision made to close school?
The first consideration is always the safety of our students. Beginning around 2:00 a.m., staff members drive around our district to evaluate the road conditions and determine if our buses will be able to safely transport students. Our district covers over 72 square miles of both paved and dirt roads, so conditions in one part of the district may differ from another.
The Superintendents of WISD districts begin to confer as soon as there appears to be an issue, but generally by 4:00 a.m. the conversation is underway. Lincoln Schools has chosen not to identify a specific wind chill factor for closure by policy, but to examine each specific occurrence. Using the information from staff, as well as local and national weather sources, a decision is made for our district.
Once the decision to close is made,we notify the media stations, staff, and families. Families are notified through our automated calling system. We also post the notice on our website, Twitter, Facebook, and send an email to our district email list.

The Michigan Department of Education allows 30 hours for school closures during the school year. Anything beyond that usually requires make-up days or minutes which must be approved by the Board of Education.
Listed below are a few documents that may help you solve some issues with your Chromebook. For additional support email chromebookhelp@lincolnk12.org and a technician will assist you.

Chrome browser restarts or freezes Troubleshooting

Chromebook not charging Troubleshooting

Chromebook will not turn on Troubleshooting

Display resolution error Troubleshooting

Getting blocked by Securly on all searches Troubleshooting

Getting Pop-ups or ads Troubleshooting

How to clear cached data Troubleshooting

How to remove extensions Troubleshooting

How to restore Chrome settings Troubleshooting

Some keys are not working Troubleshooting
5511 - Dress and Grooming
The Board of Education recognizes that each student's mode of dress and grooming is a manifestation of personal style and individual preference. The Board will not interfere with the right of students and their parents to make decisions regarding their appearance, except when their choices interfere with the educational program of the schools.
Accordingly, the Superintendent shall establish such grooming guidelines as are necessary to promote discipline, maintain order, secure the safety of students, and provide a healthy environment conducive to academic purposes. Such guidelines shall prohibit student dress or grooming practices which:
A. present a hazard to the health or safety of the student himself/herself or to others in the school;
B. interfere with school work, create disorder, or disrupt the educational program;
C. cause excessive wear or damage to school property;
D. prevent the student from achieving his/her own educational objectives because of blocked vision or restricted movement.
Such guidelines shall establish the dress requirements for members of the athletic teams, bands, and other school groups when representing the District at a public event.
The Superintendent shall develop administrative guidelines to implement this policy which:
A. designate the principal as the arbiter of student dress and grooming in his/her building;
B. invite the participation of staff, parents, and/or students in the preparation of a dress code which may specify prescribed dress and grooming practices, but may not amplify the rationale for prohibition established by Board policy;
C. instruct staff members to demonstrate, by example and precept, personal neatness, cleanliness, propriety, modesty, and good sense in attire and appearance;
Students who violate the foregoing rules will not be admitted to class and may be suspended from school.
District Health & Wellness
Check here for health information and updates on wellness initiatives in the district!
District Wellness Board Policy 8510
Lincoln Consolidated Schools cares about the wellness of our students. We have a Wellness Committee that meets throughout the school year. We encourage parents and community members to participate. For more info on participating and meeting dates, please contact Lori Ferguson at ferguson@lincolnk12.org
District Nurse - Christina Sperle sperlec@lincolnk12.org
RAHS Clinic - Regional Alliance For Healthy Schools
LCS RAHS clinic sites are at the High School and Middle School but any child can be seen from age 5 until age 21. Once a consent is filled out, it is good no matter what school the child attends and does not need to be submitted again unless health information changes dramatically.
includes consent for RAHS, community resources, sports physical form
RAHS clinics have Physicians, Nurse Practitioners, Social Workers and Registered Dietitians. Services include asthma care, lab testing (throat swabs & blood work), counseling for mental health needs, nutrition & exercise counseling.
The clinics in the Middle school and the High school work with Mobile Dentist and covers cost of that dental exam for those without dental coverage.
The clinics also work with Food Gatherers and each clinic stores emergency food boxes.
The clinics work with Kellogg eye center and have field trips for eye exams (and free glasses and replacement glasses for students without vision coverage)
Michigan Medicine Release of Information forms
Michigan High School Athletic Association; sports physical forms
Current District Health & Wellness Initiatives
Lincoln Middle School
Girls on the Run
Athletic programs
Building Wellness Committee
Field Day
Afternoon Recess
Lunch Recess (Fall & Spring)
Student Snack Pantry in the Counseling Office
Food Pantry
Project Healthy Schools - raising money to purchase water bottle fill stations
Smoothie making at lunch
Childs Elementary
Girls on the Run
Fun Run (October)
Family Fitness Night (October)
Splitter Run
Health Education with Nursing Students (hand & personal hygiene, nutrition)
Regional Alliance for Health Schools (RAHS)
umhs-rahs.org
734-998-2163
Community Mental Health 24/7 Hotline
734-544-3050
Corner Health Center
cornerhealth.org
734-484-3600

Ozone House

ozonehouse.org

734-662-2222 24/7 hotline
734-485-2222 drop in center

National Alliance on Mental Illness (NAMI)
Washtenaw County
namiwc.org
734-994-6611
Food Gatherers
foodgatherers.org
734-761-2796
SOS Food Pantry
211 then enter zip code
Ypsilanti Friends Church Food Bank
www.ypsifriends.org

(734) 483-6380

Comcast Internet Essentials
(free internet for low income families)
internetessentials.com

1-855-846-8376




1-855-765-6995

Español

COVID19

Warmline

peer support run "warmline" used to assist adults coping with mental health issues during isolation.
1-888-733-7753

findhelp.org

findhelp.org - enter zip code for area resources

Community Resources

Internet Options

How to Practice Mental Health Worksheet

Helping Homebound Children during the COVID-19 Outbreak
Available for High School and Middle School Only
PowerSchool phone app
Providing health programs and treatment
University of Michigan Regional Alliance Healthy Schools RAHS

Registration and Consent Forms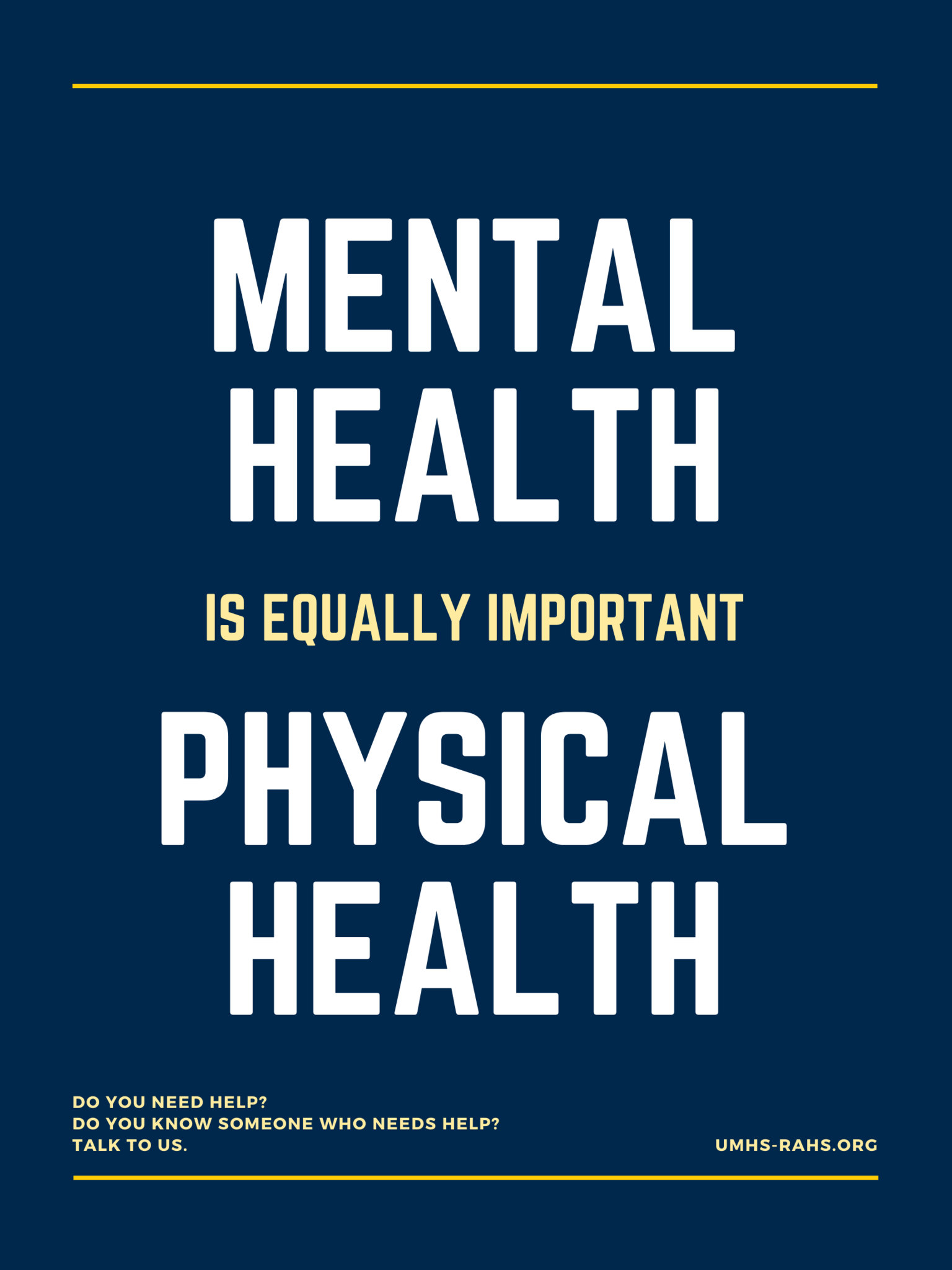 Regional Alliance for Healthy Schools (RAHS)
RAHS gives teens in our area the tools they need to live a healthy and happy lifestyle. The clinic helps provide immunizations, health and fitness programs, and counseling for teens.
Without programs like diet & nutrition, anger management, and others, these teens would be at an increased risk for obesity, academic problems, and undiagnosed and untreated mental health issues.
Some of the services available:
Physical Health
Immunizations
Asthma Program
Sports & Wellness Physicals
Physical Activity Programs
Yoga
Dental Care
Vision Care
Weight Loss Programs
Mental Health
Anger Management
Depression
Prevention & Wellness
Clinics
LHS Clinic
7425 Willis Road, Room 304
Ypsilanti, MI 48197
Check in at the LHS Main Office
(734) 714-9600
Monday: 8 am – 4 pm
Wednesday & Thursday: 8 am – 3 pm
Tuesday & Friday: 8 am – noon
LMS Clinic
8744 Whittaker Road, Room 812
Check in at the LMS office
Ypsilanti, MI 48197
(734) 714-9509
Elementary Clinic (Mental Health Services)
Brick Elementary
8970 Whittaker Road
Ypsilanti, MI 48197
Check in at the Bishop Office
(734) 714-9606
Mon, Wed, Thurs, Fri: 8:00-4:00
Tues: 8:00-noon
Liaison Officer
Thomas Guynes
Lincoln High School
Our Mission / Beliefs
Our mission is to provide an exemplary educational experience where students develop the foundation for lifelong learning.
We believe that . . .
Student learning is our highest priority.
Students, parents, staff, and the community share responsibility for student learning and must work together on behalf of students.
Students learn in different ways, at different rates, and at different times.
A caring, safe, orderly school environment enhances learning.
Students must accept responsibility for their actions.
Every individual should be treated with respect.
A positive attitude is essential for success and success builds self-esteem.
A multi-culturally enriched environment is necessary to foster acceptance of all individuals.
Learning is a life-long process.