---
SPANISH IMMERSION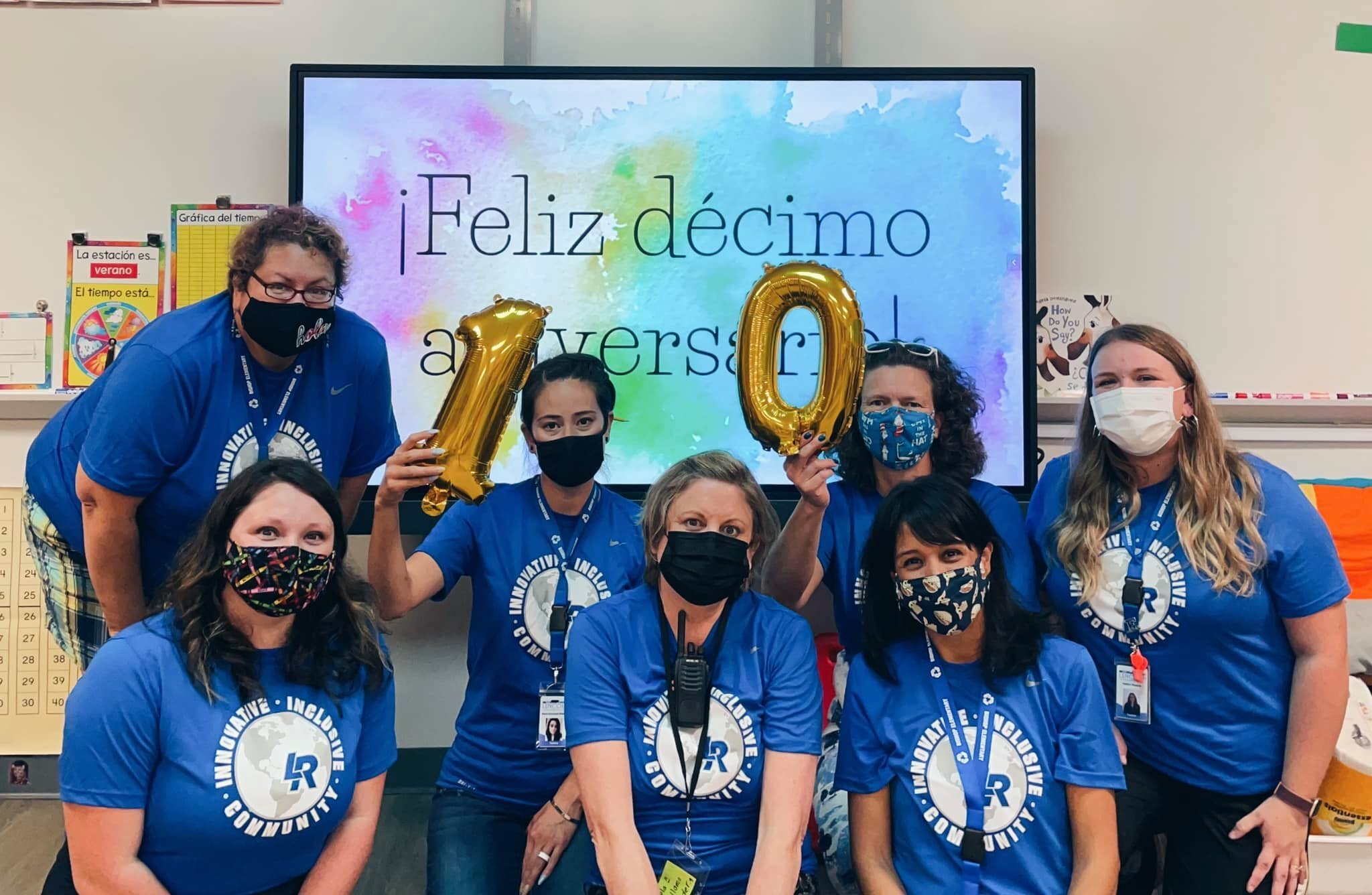 Students in Spanish Immersion are taught the identical curriculum, however, the classroom language is Spanish. English is introduced later, allowing students to leave elementary school at grade level in two languages.
Lincoln's Spanish Immersion program is the only program of its kind in Washtenaw County and one of the few language immersion programs in Michigan. It is housed in Bishop Elementary and utilizes the High/Scope model of curriculum delivery.

Visit the Lincoln Spanish Immersion website
---
BISHOP ELEMENTARY NEWS
BACK TO SCHOOL: 2021-2022 SCHOOL YEAR
We are so excited to welcome our students back to in-person learning 5 days a week. School starts on Monday, August 30th for a half day (9:00AM-11:51AM).
RETURN TO SCHOOL PLAN
We have several procedures put in place to help protect our staff and our students. Please take a moment to click on the link below to familiarize yourself with the 2021-2022 safety protocols.
Click here for safety protocols: /downloads/bishop/return_to_bishop_plan_fall_2021_1.pdf
RETURN TO SCHOOL VIDEO
Click on the link below to get to know the staff at Bishop Elementary School.
https://www.youtube.com/watch?v=W98A7BSK9wI
RETURN TO SCHOOL DROP-OFF AND PICK-UP PROCEDURES
Our number one priority is the safety of our students and staff. We have updated our morning drop-off and afternoon pick-up procedures. Please take a moment to look at the updated maps with directions on how to safely transport your student(s) to and from school.
Drop-Off Procedures: /downloads/bishop/drop_off_1.21.pdf
Pick-Up Procedures: /downloads/bishop/pick_up_1.21_final.pdf
---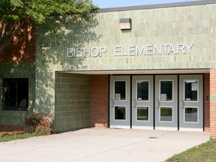 Calendar

Previous

October

2021

Next

S
M
T
W
T
F
S
1

Oct 1

3:51 PM to 5:15 PM

Cross Country

Calendar:

Bishop Calendar

Has approval from Community Ed to use gym. T/Th Bishop and Brick, F Bishop, Brick and Childs students.

2
3
4

Oct 4

Scholastic Book Fair

Calendar:

Bishop Calendar

4:00 PM to 4:30 PM

Tumbling

Calendar:

Bishop Calendar

Bishop students will be escorted over to Brick. Bishop meeting location TBD.

4:30 PM

Board Finance Committee Meeting

Location:

Central Office Conference Room

Calendar:

District Calendar

5

Oct 5

Scholastic Book Fair

Calendar:

Bishop Calendar

3:51 PM to 5:15 PM

Cross Country

Calendar:

Bishop Calendar

Has approval from Community Ed to use gym. T/Th Bishop and Brick, F Bishop, Brick and Childs students.

4:10 PM to 5:00 PM

Food Gatherers at Bishop

Location:

Exterior Cafeteria Doors

Calendar:

Bishop Calendar

Must be signed up by October 1st (

https://docs.google.com/forms/d/e/1FAIpQLSeWS_TgBwtFBLe1lMKZv4oPFTJV0_543bQSXNqvyO4eSRTL9A/viewform

)

Food Gatherers Healthy School Pantry will be back at Bishop Elementary beginning October 5th, 2021 (each month on the first Tuesday for the rest of the year.)  To sign up for the box of produce, complete the Healthy School Pantry Sign-up Form by Friday, October 1st.  The boxes of produce and access to our school pantry will be after school and during the evening meeting.  First, pick up students in the parent loop and then, starting at 4:10, when buses have gone, come to the cafeteria doors to pick up the produce box and pantry items.   Students will not be released to parents at Healthy School Pantry pick up location.


If you need help signing up for the Healthy School Pantry, email or call Sue Brodie at (734) 484-7000 ext. 7449 or brodie@lincolnk12.org.

There will also be a representative available during the Bishop Community Meetings. We will be available from 4:10pm to 5:00pm and again from 6:30pm to 7:30pm during the Bishop Community Meetings.

This institution is an equal opportunity provider.

6:30 PM to 7:30 PM

Bishop Community Meeting

Calendar:

Bishop Calendar

Food Gatherers at Bishop pick-ups also available during this time.

6

Oct 6

Scholastic Book Fair

Calendar:

Bishop Calendar

Picture Day

Calendar:

Bishop Calendar

7

Oct 7

Scholastic Book Fair

Calendar:

Bishop Calendar

3:51 PM to 5:15 PM

Cross Country

Calendar:

Bishop Calendar

Has approval from Community Ed to use gym. T/Th Bishop and Brick, F Bishop, Brick and Childs students.

4:00 PM to 4:30 PM

Tumbling

Calendar:

Bishop Calendar

Bishop students will be escorted over to Brick. Bishop meeting location TBD.

8

Oct 8

Scholastic Book Fair

Calendar:

Bishop Calendar

3:51 PM to 5:15 PM

Cross Country

Calendar:

Bishop Calendar

Has approval from Community Ed to use gym. T/Th Bishop and Brick, F Bishop, Brick and Childs students.

9
10
11

Oct 11

4:00 PM

Board Planning Committee Meeting

Location:

Central Office Conference Room

Calendar:

District Calendar

4:00 PM to 4:30 PM

Tumbling

Calendar:

Bishop Calendar

Bishop students will be escorted over to Brick. Bishop meeting location TBD.

6:00 PM

Board of Education Workshop

Location:

LHS Media Center

Calendar:

District Calendar

12

Oct 12

3:51 PM to 5:15 PM

Cross Country

Calendar:

Bishop Calendar

Has approval from Community Ed to use gym. T/Th Bishop and Brick, F Bishop, Brick and Childs students.

13
14

Oct 14

3:51 PM to 5:15 PM

Cross Country

Calendar:

Bishop Calendar

Has approval from Community Ed to use gym. T/Th Bishop and Brick, F Bishop, Brick and Childs students.

4:00 PM to 4:30 PM

Tumbling

Calendar:

Bishop Calendar

Bishop students will be escorted over to Brick. Bishop meeting location TBD.

15

Oct 15

Students Released Early; Professional Learning P.M. Dismissals: LHS - 11:54 a.m., LMS - 12:43 p.m., Childs - 12:41 p.m., Brick/Bishop - 1:41 p.m.

Calendar:

District Calendar

9:00 AM to 1:41 PM

Early Release Day

Calendar:

Bishop Calendar

10:00 AM to 10:30 AM

EMU Athlete Zoom Visit

Calendar:

Bishop Calendar

Costa Engelbert Clarke Spelman

3:51 PM to 5:15 PM

Cross Country (No practice today)

Calendar:

Bishop Calendar

Has approval from Community Ed to use gym. T/Th Bishop and Brick, F Bishop, Brick and Childs students.

16
17
18

Oct 18

4:00 PM to 4:30 PM

Tumbling

Calendar:

Bishop Calendar

Bishop students will be escorted over to Brick. Bishop meeting location TBD.

5:30 PM

Board Executive Committee Meeting

Location:

Central Office Conference Room

Calendar:

District Calendar

19

Oct 19

3:51 PM to 5:15 PM

Cross Country

Calendar:

Bishop Calendar

Has approval from Community Ed to use gym. T/Th Bishop and Brick, F Bishop, Brick and Childs students.

20
21

Oct 21

3:51 PM to 5:15 PM

Cross Country

Calendar:

Bishop Calendar

Has approval from Community Ed to use gym. T/Th Bishop and Brick, F Bishop, Brick and Childs students.

4:00 PM to 4:30 PM

Tumbling

Calendar:

Bishop Calendar

Bishop students will be escorted over to Brick. Bishop meeting location TBD.

22

Oct 22

10:30 AM to 11:30 AM

Mobile Dentist Toothbrush Give Away

Calendar:

Bishop Calendar

Representatives from Mobile Dentist will travel to the classrooms and give out toothbrushes to the students and answer questions.

3:51 PM to 5:15 PM

Cross Country

Calendar:

Bishop Calendar

Has approval from Community Ed to use gym. T/Th Bishop and Brick, F Bishop, Brick and Childs students.

23
24
25

Oct 25

Mobile Dentist

Calendar:

Bishop Calendar

4:00 PM to 4:30 PM

Tumbling

Calendar:

Bishop Calendar

Bishop students will be escorted over to Brick. Bishop meeting location TBD.

4:30 PM

Board Performance Committee Meeting

Location:

Central Office Conference Room

Calendar:

District Calendar

6:00 PM

Board of Education Meeting

Location:

LHS Media Center

Calendar:

District Calendar

6:00 PM to 7:00 PM

Bishop BOE Presentation

Calendar:

Bishop Calendar

26
27

Oct 27

Students K-12 full day; Parent-Teacher Conferences in the evening

Calendar:

District Calendar

Parent/Teacher Conferences

Calendar:

Bishop Calendar

See your student's teacher for schedule

4:00 PM to 6:00 PM

Black History 101 Mobile Museum

Location:

Performing Arts Center LCS

Calendar:

Bishop Calendar

28

Oct 28

Parent/Teacher Conferences

Calendar:

Bishop Calendar

See your student's teacher for schedule

Students K-12 half-day; Parent-Teacher Conferences in the p.m. & evening

Calendar:

District Calendar

9:00 AM to 11:51 AM

Half Day

Calendar:

Bishop Calendar

4:00 PM to 4:30 PM

Tumbling

Calendar:

Bishop Calendar

Bishop students will be escorted over to Brick. Bishop meeting location TBD.

29

Oct 29

Students K-12 report half-day; End of First Quarter; Progress Reports

Calendar:

District Calendar

9:00 AM to 11:51 AM

Half Day

Calendar:

Bishop Calendar

30
31