---
Athletic Physicals

Physicals are required for the new school year.
2022-23 physicals must be dated after April 15, 2022.
Full details on physical requirements are here!

Update your Athletic Registration through Planet HS.

All athletic registration is now managed online - no more trips into the athletic office.
Make sure your registration is fully completed in order to start official practices and/or tryouts.
All registration info is here!

We're monitoring COVID rules and guidance from the Michigan Department of Health and the MHSAA.
**A prospective athlete is required to see a physician and receive a physical exam and clearance in order to be eligible for athletic teams in the 2022/2023 school year.

Here are a few options if you are unable to see your physician:
schedule an appointment with the onsite RAHS Health Clinic
(734) 714-9509 or (734) 714-9600
visit an Urgent Care/Walk-in clinic in the area
Splitter Community Education Programs
SplitterCommunity.com is the home of all of our Community Education programming. Check out our Dance, Kenpo Karate, Soccer, Swim and Tumbling Programs.
2022/2023 School Supply List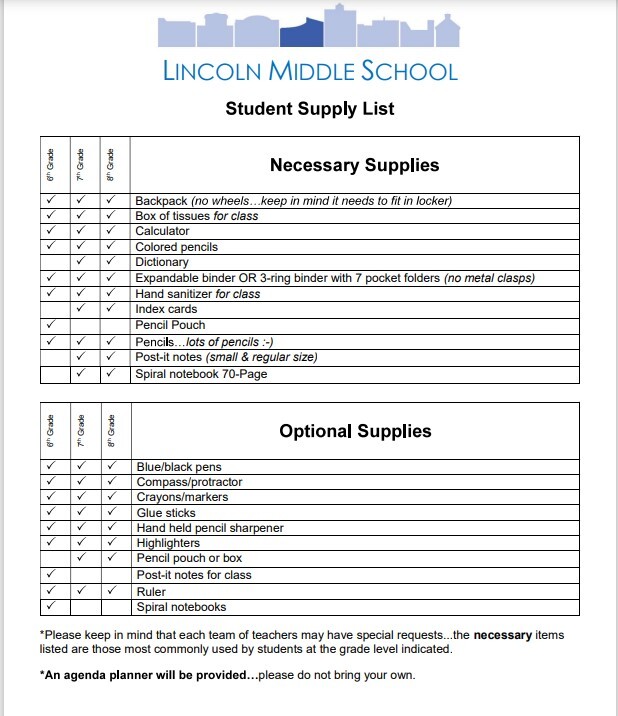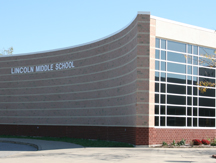 Principal
Assistant Principal
Dean of Students
Patricia Barthwell
Lincoln Middle School
8744 Whittaker Road
Ypsilanti, MI 48197
Middle School Office:

Office and All Day Absences:
or (734) 484-7033
Fax#: (734) 484-7088
School Hours
School: 8:00 AM - 2:57 PM
Half-day:
8:00 AM - 10:57 AM
Early Release:
8:00 AM - 12:43 PM
Athletic Office:
Office: (734) 484-7013
Fax: (734) 484-7020

Tech Support:


Transportation
(734) 484-7044

LMS & District Calendar
LMS & District Calendar

Previous

January

2023

Next

S
M
T
W
T
F
S
1

Jan 1

No School – Winter Recess-School Resumes January 9th

Calendar:

District Calendar

2

Jan 2

No School – Winter Recess-School Resumes January 9th

Calendar:

District Calendar

3

Jan 3

No School – Winter Recess-School Resumes January 9th

Calendar:

District Calendar

4

Jan 4

No School – Winter Recess-School Resumes January 9th

Calendar:

District Calendar

5

Jan 5

No School – Winter Recess-School Resumes January 9th

Calendar:

District Calendar

6

Jan 6

No School – Winter Recess-School Resumes January 9th

Calendar:

District Calendar

7

Jan 7

No School – Winter Recess-School Resumes January 9th

Calendar:

District Calendar

8

Jan 8

No School – Winter Recess-School Resumes January 9th

Calendar:

District Calendar

9

Jan 9

Classes Resume

Calendar:

District Calendar

6:00 PM to 7:00 PM

Board of Education Meeting

Location:

Boardroom - Lincoln High School

Calendar:

District Calendar

10
11
12

Jan 12

5:30 PM to 7:30 PM

Strategic Design Team Meeting #1

Location:

Room 200 - Lincoln High School, 7425 Willis Rd , Ypsilanti, MI 48197, USA

Calendar:

District Calendar

Hello Lincoln Strategic Design Team!    We are very excited to see you at our first Strategic Design Team Meeting on Thursday, January 12th from 5:30 - 7:30 pm in LHS Room 200.  Thank you, in advance, for your commitment toward helping our district turn our Portrait of a Graduate into a reality for every student.     Preparing every student to be a lifelong learner and contributor is hard work, but we believe it will make a lasting difference for our district. Our Strategic Plan needs to reflect the perspective of community leaders like you, so that our school system can activate our Portrait in each classroom.     The meeting will be held in LHS Room 200 (near the main office) and dinner will be provided starting at 5:15 pm.  Please accept this meeting invitation to RSVP to help us plan for dinner. We understand that there may be conflicts to attending all three meetings for the allotted time and welcome any time that you are able to participate in this very important work.  We look forward to seeing you there!

7:00 PM to 8:00 PM

Band Concert- 6th Grade

Location:

Performing Arts Center

Calendar:

District Calendar

13

Jan 13

6:00 PM to 7:00 PM

Board of Education Meeting

Location:

Boardroom - Lincoln High School

Calendar:

District Calendar

14

Jan 14

6:00 PM to 7:00 PM

Board of Education Meeting

Location:

Boardroom - Lincoln High School

Calendar:

District Calendar

15
16

Jan 16

No School - Martin Luther King Day

Calendar:

District Calendar

17
18

Jan 18

HS/MS Exams; HS/MS students report half day A.M. Elementary students report full day

Calendar:

District Calendar

19

Jan 19

HS/MS Exams; HS/MS students report half day A.M. Elementary students report full day

Calendar:

District Calendar

20

Jan 20

HS/MS Exams; HS/MS students report half day A.M. Elementary students report full day; End of Second Quarter - End of First Semester-Secondary

Calendar:

District Calendar

21
22
23

Jan 23

No School-Staff Reports- HS/MS Teacher Records Day; Elementary PD 4hrs/2 hrs Work Day

Calendar:

District Calendar

6:00 PM to 7:00 PM

Board of Education Meeting

Location:

Boardroom - Lincoln High School

Calendar:

District Calendar

24
25
26
27
28
29
30
31