The LMS Spring Fundraiser kicked off at the end of March and ended in early April and was a HUGE success! Monies raised will help fund our end-of-year events for the students and for activities at the beginning of the 2021-2022 school year. Thank you to all the parents, friends, and family that helped support our students! We appreciate it very much.
The following students are our TOP FIVE sellers and received a pair of EAR PODS:
Melissa Culver
Kara Lacombe
Aiden Watson
Jaxon Smallman
Elle Linderman
We also had two students that won our candy bar CASH prize of $25. To be eligible for the CASH prize, you only needed to sell 5 items to receive a candy bar. Two of the candy bars had a gold sticker. The two students that won the gold sticker prize are Layla Creager and Sylvia Guevara.
Congratulations to everyone and THANK YOU for all your hard work!
A job well done!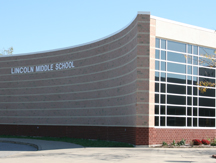 Principal
Timothy Green

Lincoln Middle School
Assistant Principal
Lori Ferguson

Lincoln Middle School
Dean of Students
Patricia Barthwell

Lincoln Middle School
8744 Whittaker Road
Ypsilanti, MI 48197
Office Hours resume August 10, 2021
Middle School Office:
734-484-7033
734-484-7088 Fax
School Hours
Office: 7:00 AM - 3:30 PM
School: 7:40 AM - 2:36 PM
Half-day: 7:40 AM - 10:36 AM
Early Release: 7:40 AM - 12:23 PM
Athletic Office:
Office: (734) 484-7013
Fax: (734) 484-7020

Tech Support:


Transportation:
or (734) 484-7079
LMS & District Calendar
LMS & District Calendar

Previous

June

2021

Next

S
M
T
W
T
F
S
1
2
3
4

Jun 4

6:00 PM to 8:00 PM

8th Grade Farewell Dance

Calendar:

Lincoln Middle School

5
6
7

Jun 7

4:30 PM

Board Finance Committee Meeting

Location:

Central Office Conference Room

Calendar:

District Calendar

5:30 PM

Board Executive Committee Meeting

Location:

Central Office Conference Room

Calendar:

District Calendar

8
9
10
11
12
13
14

Jun 14

6:00 PM

Board of Education Meeting

Location:

LHS Media Center

Calendar:

District Calendar

15

Jun 15

6:00 PM to 7:00 PM

Reading in the Park #1

Calendar:

District Calendar

16
17
18
19
20
21

Jun 21

4:30 PM

Board Finance Committee Meeting

Location:

Central Office Conference Room

Calendar:

District Calendar

5:30 PM

Board Executive Committee Meeting

Location:

Central Office Conference Room

Calendar:

District Calendar

22
23
24
25
26
27
28

Jun 28

4:30 PM

Board Performance Committee Meeting

Location:

Central Office Conference Room

Calendar:

District Calendar

6:00 PM

Board of Education Meeting

Location:

LHS Media Center

Calendar:

District Calendar

29
30

Jun 30

6:30 PM to 7:30 PM

LCS Virtual Academy Open House (Virtual Meeting)

Calendar:

District Calendar