We are attempting to reduce the cost
of the EMU camp for sixth and seventh
graders. It's the first step in our college
and career readiness program.

The goal is to begin this year and add
another layer through WCC next year
so that while students are enrolled at L
MS they will have an opportunity to
shadow college programs, vocational
training, 2- and 4-year college programs
and military branches.

These are the dates for future Dine to
Donate events to support this great endeavor!
October 22nd, 29th

The backpacks will be used for the
LMS food pantry

We need :

DRAWSTRING BACKPACKS
YOUR HELP

You do not need to go out and buy a
really high end backpack.

You can donate any drawstring backpacks
to the front office until the 31st of October.

The backpacks can have a school appropriate
logo on them.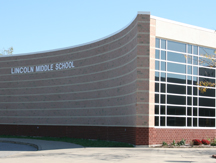 Principal
Timothy Green

Lincoln Middle School
Assistant Principal
Lori Ferguson

Lincoln Middle School
Dean of Students
8744 Whittaker Road
Ypsilanti, MI 48197
734-484-7033
734-484-7088 Fax
School Hours
Office: 7:00 AM - 3:30 PM
School: 7:40 AM - 2:36 PM
Half-day: 7:40 AM - 10:36 AM
Early Release: 7:40 AM - 12:23 PM
Absences: (734) 484-7033 or gamboet@lincolnk12.org
All other inquiries: huling@lincolnk12.org
Athletic Office:
(734) 484-7013

Transportation:
(734) 484-7044
Events Occurring Soon
Students K-12 full day; Parent-Teacher Conferences in the evening

Calendar:

District Calendar

PAC-HS CHOIR CONCERT REHEARSAL

Calendar:

Community Events

Heart & Sole

Calendar:

Lincoln Middle School

Fall Art Show 4:00 - 7:00 pm

Calendar:

Lincoln Middle School

MS HS Cheer Practice

Calendar:

Lincoln Middle School

PAC-HS CHOIR CONCERT 7 PM

Calendar:

Community Events

No Adult Water Aerobics-Cancelled

Calendar:

District Events

No class Wednesday, October 23rd.

Last class for the season is Wednesday, November 6th and will resume on February 12th.

Students K-12 half-day; Parent-Teacher Conferences in the p.m. & evening

Calendar:

District Calendar

Fall Art Show 4:00 - 7:00 pm

Time:

12:00 PM to 7:00 PM

Calendar:

Lincoln Middle School

Students K-12 half-day

Calendar:

District Calendar

Family Swim @ LHS Pool

Calendar:

Lincoln Middle School

Heart & Sole

Calendar:

Lincoln Middle School

Heart & Sole

Calendar:

Lincoln Middle School

PAC-HS DRAMA

Location:

PAC/ DRESSING ROOMS

Calendar:

Community Events

Adult Water Aerobics

Calendar:

District Events

Adult Lap Swim

Calendar:

District Events

LMS-Trunk or Treat

Calendar:

Lincoln Middle School

Students Released Early; Professional Development P.M. Secondary dismissal 12:23 p.m.; Elementary dismissal 1:26 p.m. (Childs 1:11 p.m.)

Calendar:

District Calendar

PAC-HS DRAMA

Location:

PAC/ DRESSING ROOMS

Calendar:

Community Events

End of First Quarter-Secondary

Calendar:

District Calendar

PAC-HS DRAMA

Location:

PAC/ DRESSING ROOMS

Calendar:

Community Events

LMS- Masquerade Dance

Calendar:

Lincoln Middle School

Family Swim @ LHS Pool

Calendar:

Lincoln Middle School