Newsletter and Weekly Updates
LMS Parent Newsletter
October 2022
October brings the most beautiful autumn colors. It is that time of the year when we enjoy the cool weather, gather at fall events to celebrate and it is full of fun and excitement in the community. In terms of academics, we are in full swing after we took the first two weeks of the school to focus primarily on relationship building throughout our community. We also completed the Measure of Academic Progress Test- NWEA to assess where our students are academically to inform our daily instruction and focus. I encourage you to communicate with your student's teachers on a regular basis to ensure they are making the academic progress and connections essential to their growth, which includes their social emotional well-being.
Also, we will complete the first semester on October 28th. We will celebrate our first "Student of the Month" in person on October 19th at 9:30am. We are so excited to have parents back in the building to attend this honor celebration with their students. I look forward to seeing all the recipients and their parents for this celebration. Please note we are only allowing 2 family members per student. Thank you for your cooperation in advance. We will also celebrate the harvest season with our "Trunk or Treat" event on Wednesday, October 26th at 9:30am. The PS3 group has been advertising this event for some time and more specifics are forthcoming. We ask that every parent donate a bag of candy for this event.
In addition, Parent Teacher Conferences are October 27th in the evening (4pm to 7pm). It is imperative that parents come and be a part to discuss your student's progress thus far with their teachers. This is the time to ask questions and build a strong alliance with your student's teacher (s). Please remember that you are able to spend 15 minutes with your student's teacher. If you require more time that will need to be arranged with that individual teacher.
Likewise, vaping is a major problem in all schools today. At the middle school, we are seeing and learning that students are using vaping and accessories at a higher rate. Although we do not know the percentage of students that are vaping, we do know we must ensure our students are aware of this potential epidemic. Recently, I have spoken to parents and students both at Lincoln and other places and they advised that students are vaping as early as the second grade. Moreover, many students are also using marijuana through smoking mechanisms, as well as edibles. We are working on several things to educate and eliminate the use of vaping in our building/district. We will again have assemblies that talk about the dangers of vaping, how it is being marketed to our students and the short and long effects it can have on students' health. These assemblies will be Friday, October 14th. Again, our purpose is to inform and give students real information around vaping. Vaping is prohibited at LMS and against the Student Code of Conduct. Please make sure you are speaking with your student about this most important social/ health topic.
Moreover, in the interest of serving the social emotional learning (SEL) needs of our students, we have implemented restorative practices to help them resolve conflicts. These practices also include processes to aid students in taking ownership of their behavior and engage in acts of empathy and forgiveness. Many of the staff have been or are being trained to utilize restorative practices in their classrooms, to assist in managing the personal growth and development of our students. We are excited about this new discipline method in our building.
Lastly, I want to thank everyone for their support and hard work in making September a successful and exciting month for our students. We are grateful for all the support from the following parents that volunteered as chaperones for the Middle School Ice Breaker last month. We had well over 300 students that attended this event. Please join me in recognizing them. The names are as follows:
Decorations:
Led by PS3 Member at Large, Cassondra Paylor and assisted by:
Melissa Johnson
Merrika Brown
Julia Koumbassa
Chalise Meckl
Dance Chaperones:
Jason Moore
Amanda Allen
Melissa Johnson
Connie McGuire
Nita Sims
Lyla Rickman
Tina Price
Merrika Brown
Pam Lewis
Chalise Meckl
Cassondra Paylor
Kim Dunn
Heather Silander
Please do not forget that Wednesday, October 5th is Count Day. It is important that your student is in school so that they will be counted. Our school fundraiser started September 21 and ends October 5. All proceeds from our school fundraiser helps supports our school programs. LMS will have its first Fall Harvest Festival Thursday, October 13th from 3:00pm to 4:30pm. The cost to attend is $3. More information is forthcoming.
Principal Green
Picture Day Retakes: October 13
Picture Day Retake is Thursday, October 13th.
Visit: www.school pictures.com
Keyword: AA2501Fall22

2022/2023 School Supply List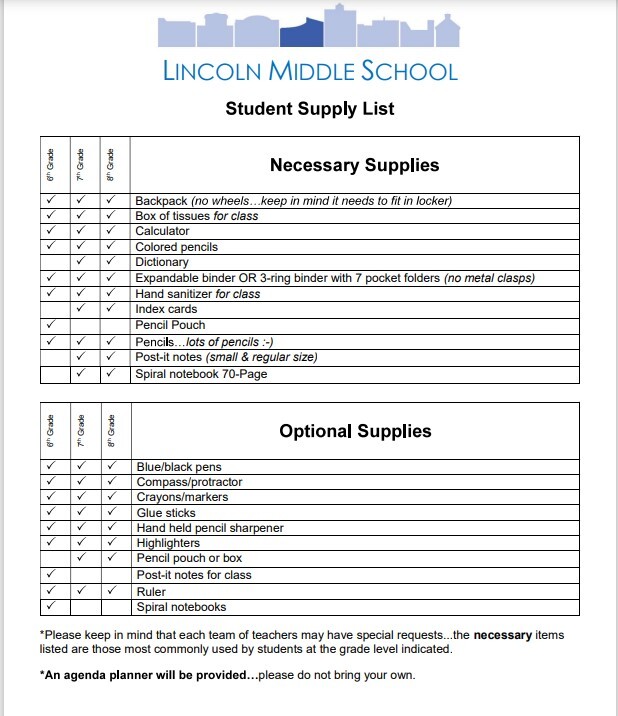 Splitter Community Education Programs
SplitterCommunity.com is the home of all of our Community Education programming. Check out our Dance, Kenpo Karate, Soccer, Swim and Tumbling Programs.
Homecoming week
Here at LMS we will be having our own spirit week to celebrate. Here are the days and theme:
Oct 3, Monday - Pajama Day
Oct 4, Tuesday - Disney Day
Oct 5, Wednesday - Favorite Team Day
Oct 6, Thursday - Throwback Thursday
Oct 7, Friday - Blue/Gray Splitter Spirit Day
---
Athletic Physicals

Physicals are required for the new school year.
2022-23 physicals must be dated after April 15, 2022.
Full details on physical requirements are here!

Update your Athletic Registration through Planet HS.

All athletic registration is now managed online - no more trips into the athletic office.
Make sure your registration is fully completed in order to start official practices and/or tryouts.
All registration info is here!

We're monitoring COVID rules and guidance from the Michigan Department of Health and the MHSAA.
**A prospective athlete is required to see a physician and receive a physical exam and clearance in order to be eligible for athletic teams in the 2022/2023 school year.

Here are a few options if you are unable to see your physician:
schedule an appointment with the onsite RAHS Health Clinic
(734) 714-9509 or (734) 714-9600
visit an Urgent Care/Walk-in clinic in the area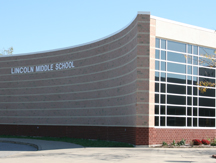 Principal
Assistant Principal
Dean of Students
Patricia Barthwell
Lincoln Middle School
8744 Whittaker Road
Ypsilanti, MI 48197
Middle School Office:

Office and All Day Absences:
or (734) 484-7033
Fax#: (734) 484-7088
School Hours
School: 8:00 AM - 2:57 PM
Half-day:
8:00 AM - 10:57 AM
Early Release:
8:00 AM - 12:43 PM
Athletic Office:
Office: (734) 484-7013
Fax: (734) 484-7020

Tech Support:


Transportation
(734) 484-7044

LMS & District Calendar
LMS & District Calendar

Previous

October

2022

Next

S
M
T
W
T
F
S
1
2
3
4
5
6
7
8
9
10

Oct 10

6:00 PM to 7:00 PM

Board of Education Workshop

Location:

Boardroom-Lincoln High School

Calendar:

District Calendar

11
12
13
14

Oct 14

Students Released Early; HS/MS Professional Learning P.M.; Elementary Work Day; Dismissals: LHS - 11:54 a.m., LMS - 12:43 p.m., Childs - 12:44 p.m., Brick/Bishop - 1:44 p.m.

Calendar:

District Calendar

15
16
17
18
19
20
21
22
23
24

Oct 24

6:00 PM to 7:00 PM

Board of Education Meeting

Location:

Boardroom-Lincoln High School

Calendar:

District Calendar

25
26

Oct 26

Students K-12 full day; Parent-Teacher Conferences in the evening

Calendar:

District Calendar

27

Oct 27

Students K-12 half-day; Parent-Teacher Conferences in the p.m. & evening

Calendar:

District Calendar

28

Oct 28

NO SCHOOL- End of First Quarter-Secondary

Calendar:

District Calendar

29
30
31
Events Occurring Soon
Board of Education Workshop

Location:

Boardroom-Lincoln High School

Calendar:

District Calendar