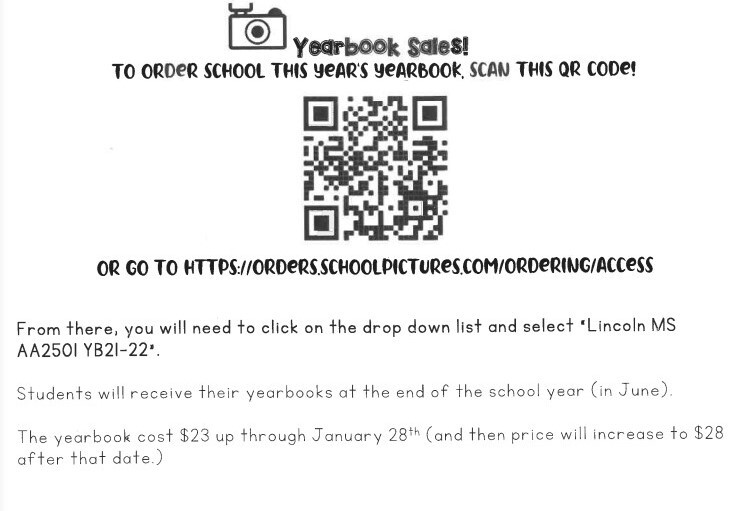 2021/2022 School Supply List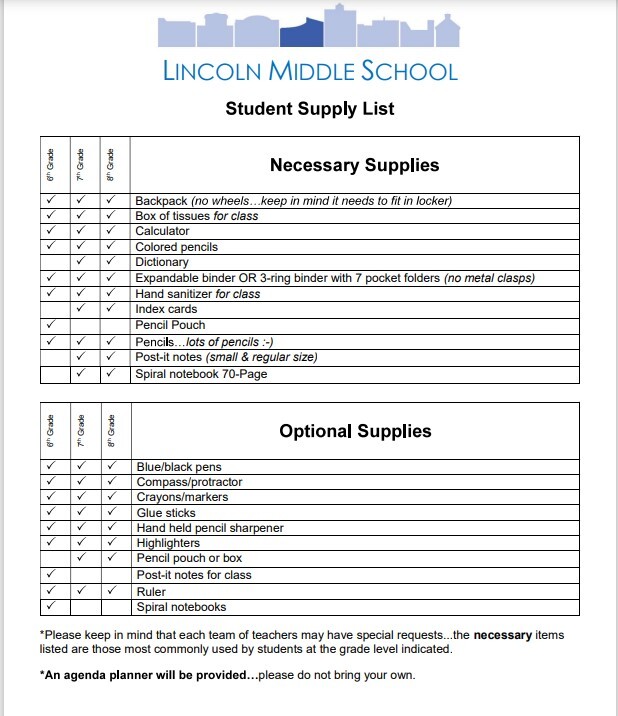 Athletic Physicals

Physicals are required for the new school year.
2022-23 physicals must be dated after April 15, 2022.
Full details on physical requirements are here!

Update your Athletic Registration through Planet HS.

All athletic registration is now managed online - no more trips into the athletic office.
Make sure your registration is fully completed in order to start official practices and/or tryouts.
All registration info is here!

We're monitoring COVID rules and guidance from the Michigan Department of Health and the MHSAA.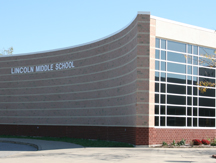 Principal
Assistant Principal
Dean of Students
Patricia Barthwell
Lincoln Middle School
8744 Whittaker Road
Ypsilanti, MI 48197
Middle School Office:

All Day Absences:
or (734) 484-7033
School Hours
School: 8:00 AM - 2:57 PM
Half-day:
8:00 AM - 10:57 AM
Early Release:
8:00 AM - 12:43 PM
Athletic Office:
Office: (734) 484-7013
Fax: (734) 484-7020

Tech Support:


Transportation:
(734) 484-7079
2021/2022 Master School Calendar and Events
2021/2022 Master School Calendar
6th Grade and New Student Orientation
Monday, August 23rd, 8:00 am-Noon
First Day of School
Monday, August 30th
6-12 full day 8:00 am-2:57 pm
Open House
Wednesday, September 1st
5:00-6:30 pm
LMS & District Calendar
LMS & District Calendar

Previous

May

2022

Next

S
M
T
W
T
F
S
1
2
3

May 3

6:00 PM to 7:00 PM

Childs Elementary Parent Information Night

Calendar:

District Calendar

4
5

May 5

6:00 PM to 7:00 PM

Bishop Elementary Parent Information Night

Calendar:

District Calendar

6

May 6

Students Released Early; Professional Learning P.M.; Dismissals: LHS - 11:54 a.m., LMS - 12:43 p.m., Childs - 12:41 p.m., Brick/Bishop - 1:41 p.m.

Calendar:

District Calendar

7
8
9

May 9

6:00 PM to 7:00 PM

Board of Education Meeting

Location:

Boardroom-Lincoln High School

Calendar:

District Calendar

6:00 PM to 7:00 PM

Spanish Immersion Parent Information Night

Location:

Bishop Elementary School, 8888 Whittaker Rd, Ypsilanti, MI 48197, USA

Calendar:

District Calendar

10
11
12

May 12

6:00 PM to 7:00 PM

Brick Elementary Parent Information Night

Location:

Brick Elementary School, 8970 Whittaker Rd, Ypsilanti, MI 48197, USA

Calendar:

District Calendar

13
14
15
16

May 16

Senior Final Exams; Student K-11 report full day

Calendar:

District Calendar

17

May 17

Seniors Final Exams; Last Day for Seniors- Students K-11 report full day

Calendar:

District Calendar

18

May 18

6:00 PM to 7:00 PM

LCS Virtual Academy Parent Information Night

Calendar:

District Calendar

19
20
21
22
23
24
25
26
27

May 27

Students K-11 report half day

Calendar:

District Calendar

28
29
30

May 30

No School-Memorial Day

Calendar:

District Calendar

31