LMS Spring Fundraiser
begins Monday, March 1st, and runs through Friday, March 19th.

Step 1: Register your student

Step 2: Once your student is registered, click the tab provided to view the ONLINE SHOP login page. This is where your friends and family can shop online and support your student and school, using our school ID: Lincoln MS

Step 3: Check the online store link to your student's shop's admin page. From here you can monitor their seller status, goals, and online sales.

You may choose to have your orders shipped to your home for an additional fee or you may have them shipped to the school for FREE

PRIZES:

Top FIVE sellers in the school will receive Wireless Bluetooth earbuds

Sell TEN items, win a candy bar with the opportunity to win $25 cash

All monies raised will go towards year-end student activities and leading into the beginning of the 2021/2022 school year.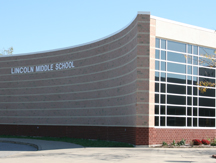 Principal
Timothy Green

Lincoln Middle School
Assistant Principal
Lori Ferguson

Lincoln Middle School
Dean of Students
8744 Whittaker Road
Ypsilanti, MI 48197
Middle School Office:
734-484-7033
734-484-7088 Fax
School Hours
Office: 7:00 AM - 3:30 PM
School: 7:40 AM - 2:36 PM
Half-day: 7:40 AM - 10:36 AM
Early Release: 7:40 AM - 12:23 PM
Athletic Office:
Office: (734) 484-7013
Fax: (734) 484-7020

Tech Support:


Transportation:
or (734) 484-7079