A special thank you goes out to the classes that have been able to reach the benchmark of one item per home base student; Adcock, Bryant, Gallup, Haynes, Hughes, and Weathers

In the lead right now is Mrs. Hughes's class with 5.1 donations per student followed closely by Mrs. Adcock's class with 4.6 per student.

Mrs. Pocock's class and Mrs. Weathers's class are tied at 2.0 donations per student.

Our Food Drive continues through the end of November, please keep the food items coming in.

Students may come to
the Pantry with a pass
from staff during open times.
Parents are welcome to
shop at these times.
Parents may also contact
our counseling office
[734-484-7085] to schedule an appointment.

Last Week of Backpack Drive!

The backpacks for the LMS food pantry

We need :

DRAWSTRING BACKPACKS
YOUR HELP

You can donate any drawstring backpacks
to the front office until the 31st of October.

The backpacks can have a school appropriate
logo on them.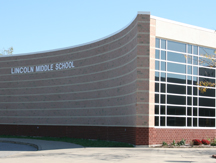 Principal
Timothy Green

Lincoln Middle School
Assistant Principal
Lori Ferguson

Lincoln Middle School
Dean of Students
8744 Whittaker Road
Ypsilanti, MI 48197
734-484-7033
734-484-7088 Fax
School Hours
Office: 7:00 AM - 3:30 PM
School: 7:40 AM - 2:36 PM
Half-day: 7:40 AM - 10:36 AM
Early Release: 7:40 AM - 12:23 PM
Absences: (734) 484-7033 or gamboet@lincolnk12.org
All other inquiries: huling@lincolnk12.org
Athletic Office:
(734) 484-7013

Transportation:
(734) 484-7044