Welcome to

Lincoln Middle School
---
Athletic Physicals

Physicals are required for the new school year.
2023-24 physicals must be dated after April 15, 2023.
Full details on physical requirements are here!
**A prospective athlete is required to see a physician and receive a physical exam and clearance in order to be eligible for athletic teams in the 2022/2023 school year.

Here are a few options if you are unable to see your physician:
schedule an appointment with the onsite RAHS Health Clinic
(734) 714-9509 or (734) 714-9600
visit an Urgent Care/Walk-in clinic in the area
Splitter Community Education Programs
SplitterCommunity.com is the home of all of our Community Education programming. Check out our Dance, Kenpo Karate, Soccer, Swim and Tumbling Programs.
2023/2024 School Supply List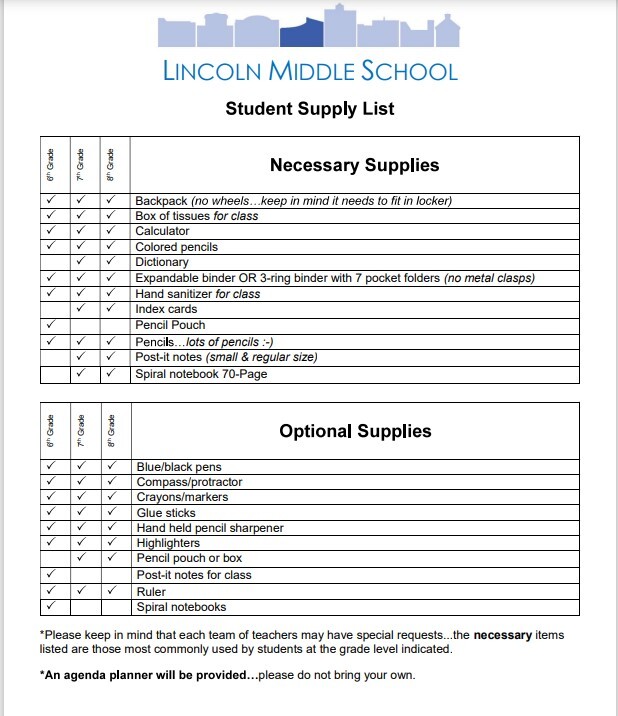 Congratulations to our very own Bekah Ward, on being honored with the esteemed Chief Mate Award by the Michigan College Access Network! Your remarkable efforts as a middle school counselor here at Lincoln have significantly advanced college readiness and enrollment support for our students. Your role extends beyond our district, serving as a powerful voice for school counselors and demonstrating strong community connections through your leadership and advocacy. This award is a well-deserved recognition of your tireless commitment to guiding young minds towards their educational aspirations. Your contributions are making a pivotal impact on the lives of our students and your work is invaluable in shaping the future of education. Keep up the extraordinary work!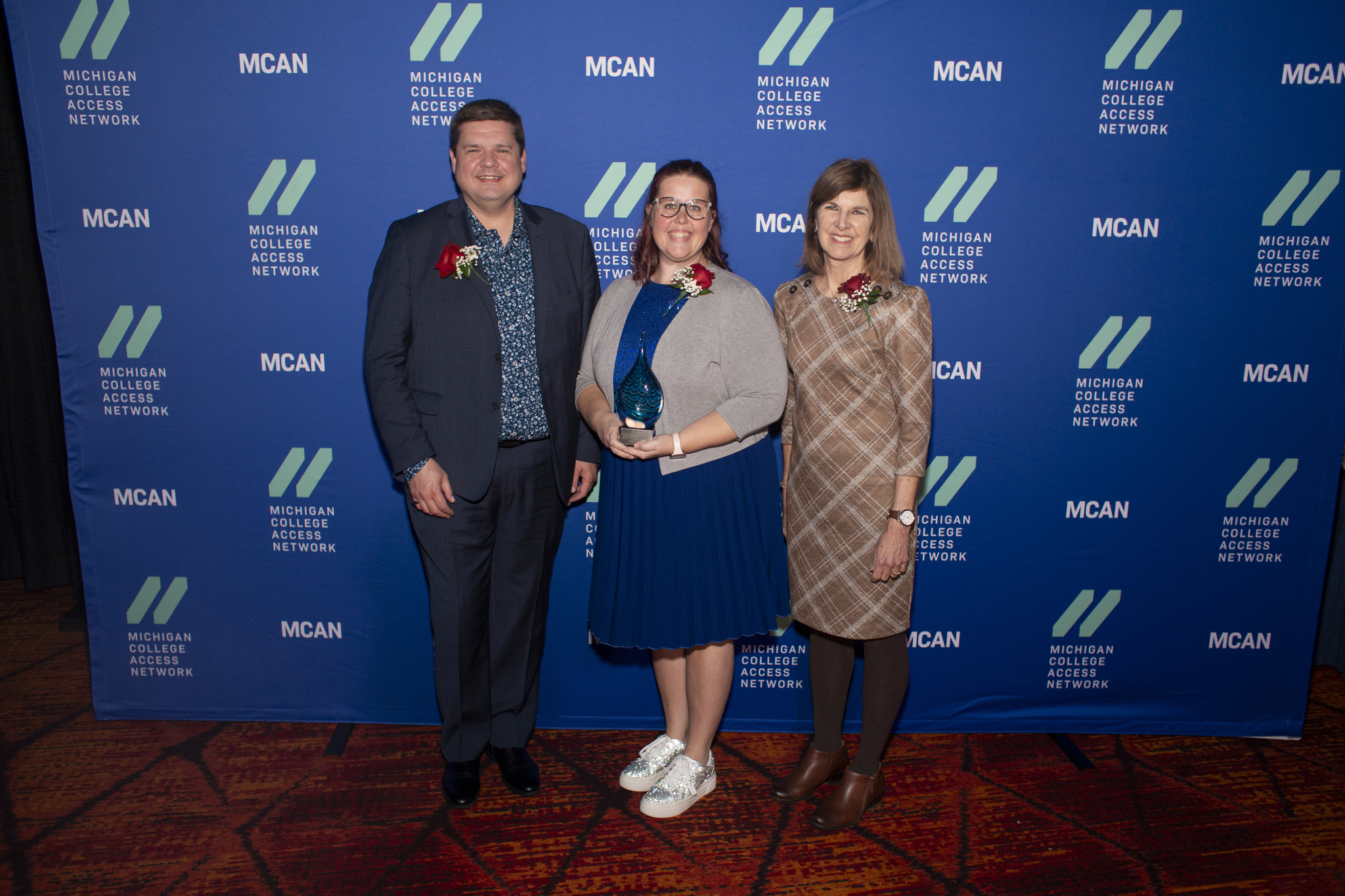 November 14, 2023
Fire & Ice Winter Dance
November 14, 2023
First Friday with the Principal
November 3, 2023
Yearbooks Sales Start Now!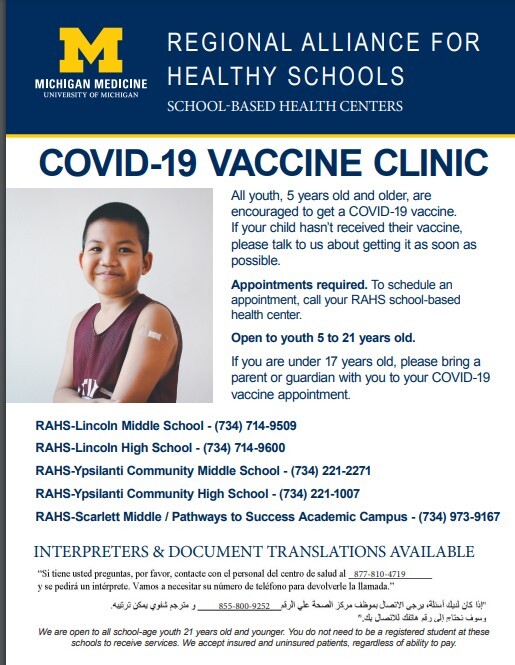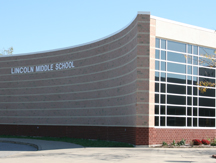 School Information
Lincoln Middle School
8744 Whittaker Road
Ypsilanti, MI 48197
734-484-7033
734-484-7088 Fax
Absences
(734) 484-7033 or
(All Day Absences Only)
School Hours
Full Day: 8:00 AM - 2:57 PM
Half Day: 8:00 AM - 10:57 AM
Transportation
Email Transportation
(734) 484-7044
Tech Support
Email Tech Support
Athletic Office
(734) 484-7013
Principal
Assistant Principal
Interim Dean of Students
District Events
District Events

Previous

November

2023

Next

S
M
T
W
T
F
S
1

Nov 1

3:00 PM to 5:00 PM

LMS Boys Basketball Tryouts

Calendar:

District Event Calendar

View the full event details here: https://events.dudesolutions.com/lincolnk12/event/lms-boys-basketball-tryouts/

2

Nov 2

8:00 AM to 9:00 AM

Brick Food Pantry (Food Gatherers)

Location:

Community Action Network

Calendar:

District Event Calendar

Food Gatherers delivers food once week on Thursday for the Brick Pantry. The pantry is then open to the community Monday-Thursday from 11-200pm or by appointment. Twice a month DoorDash delivers Food Gatherers for Brick to our families. View the full event details here: https://events.dudesolutions.com/lincolnk12/event/brick-food-pantry-food-gatherers-8/

3:00 PM to 5:00 PM

LMS Boys Basketball Tryouts

Calendar:

District Event Calendar

View the full event details here: https://events.dudesolutions.com/lincolnk12/event/lms-boys-basketball-tryouts-1/

3

Nov 3

3:00 PM to 5:00 PM

LMS Boys Basketball Tryouts

Calendar:

District Event Calendar

View the full event details here: https://events.dudesolutions.com/lincolnk12/event/lms-boys-basketball-tryouts-2/

5:30 PM to 7:30 PM

Calendar:

District Event Calendar

View the full event details here: https://events.dudesolutions.com/lincolnk12/event/fall-dance/

4
5
6

Nov 6

6:30 AM to 12:30 PM

HS Student Picture RETAKE Day

Calendar:

District Event Calendar

View the full event details here: https://events.dudesolutions.com/lincolnk12/event/student-picture-day-1/

5:30 PM to 7:00 PM

BOE Executive Committee Meeting

Calendar:

District Event Calendar

View the full event details here: https://events.dudesolutions.com/lincolnk12/event/boe-executive-committee-meeting-6/

6:00 PM to 7:00 PM

LHS Bowling Parent/Player Meeting

Calendar:

District Event Calendar

View the full event details here: https://events.dudesolutions.com/lincolnk12/event/lhs-bowling-parentplayer-meeting/

7

Nov 7

7:00 AM to 8:00 PM

Location:

All School District Master Calendar

Calendar:

District Event Calendar

Lincoln will have two millage renewals on the ballot for the fall election. The polls are open from 7:00 a.m. to 8:00 p.m. on November 7, 2023. If you are unsure of your polling location, contact your township clerk. View the full event details here: https://events.dudesolutions.com/lincolnk12/event/millage-renewals-2023/

4:00 PM to 6:00 PM

LHS Competitive Cheer Tryouts

Calendar:

District Event Calendar

View the full event details here: https://events.dudesolutions.com/lincolnk12/event/lhs-competitive-cheer-tryouts/

5:30 PM to 9:30 PM

MHSAA Volleyball Regionals

Calendar:

District Event Calendar

View the full event details here: https://events.dudesolutions.com/lincolnk12/event/mhsaa-volleyball-regionals/

8

Nov 8

4:00 PM to 6:00 PM

LHS Competitive Cheer Tryouts

Calendar:

District Event Calendar

View the full event details here: https://events.dudesolutions.com/lincolnk12/event/lhs-competitive-cheer-tryouts-1/

9

Nov 9

8:00 AM to 9:00 AM

Brick Food Pantry (Food Gatherers)

Location:

Community Action Network

Calendar:

District Event Calendar

Food Gatherers delivers food once week on Thursday for the Brick Pantry. The pantry is then open to the community Monday-Thursday from 11-200pm or by appointment. Twice a month DoorDash delivers Food Gatherers for Brick to our families. View the full event details here: https://events.dudesolutions.com/lincolnk12/event/brick-food-pantry-food-gatherers-9/

7:00 PM to 9:30 PM

MHSAA Volleyball Regionals

Calendar:

District Event Calendar

View the full event details here: https://events.dudesolutions.com/lincolnk12/event/mhsaa-volleyball-regionals-1/

10

Nov 10

6:00 PM to 8:00 PM

Location:

Bishop Art Room,Media Center,Elementary Bus Loop,Cafeteria,Gym,Specify Room(s) in Task

Calendar:

District Event Calendar

gffffffffffffffffffffffffBRAVO PTO is hosting a family game night full of board games, scavenger hunts and more! Our friends from the YDL will be joining us and dinner options will be available. View the full event details here: https://events.dudesolutions.com/lincolnk12/event/bishop-family-game-night/

11
12
13

Nov 13

3:30 PM to 6:00 PM

LMS Competitive Cheer Tryouts

Calendar:

District Event Calendar

View the full event details here: https://events.dudesolutions.com/lincolnk12/event/lms-competitive-cheer-tryouts/

4:30 PM to 5:30 PM

BOE Planning Committee Meeting

Calendar:

District Event Calendar

View the full event details here: https://events.dudesolutions.com/lincolnk12/event/boe-planning-committee-meeting-3/

6:00 PM to 8:00 PM

Board Of Education Meeting

Location:

BOE Conference Room

Calendar:

District Event Calendar

View the full event details here: https://events.dudesolutions.com/lincolnk12/event/board-of-education-meeting-8/

14

Nov 14

3:30 PM to 6:00 PM

LMS Competitive Cheer Tryouts

Calendar:

District Event Calendar

View the full event details here: https://events.dudesolutions.com/lincolnk12/event/lms-competitive-cheer-tryouts-1/

4:15 PM to 7:00 PM

LMS Boys Basketball HOME Games

Calendar:

District Event Calendar

Lincoln Blue vs. Saline View the full event details here: https://events.dudesolutions.com/lincolnk12/event/lms-boys-basketball-home-games-6/

5:30 PM to 9:30 PM

MHSAA Volleyball Quarterfinal

Calendar:

District Event Calendar

View the full event details here: https://events.dudesolutions.com/lincolnk12/event/mhsaa-volleyball-quarterfinal/

15

Nov 15

6:00 PM to 8:00 PM

Calendar:

District Event Calendar

View the full event details here: https://events.dudesolutions.com/lincolnk12/event/ps3-monthly-meetings-2/

16

Nov 16

8:00 AM to 9:00 AM

Brick Food Pantry (Food Gatherers)

Location:

Community Action Network

Calendar:

District Event Calendar

Food Gatherers delivers food once week on Thursday for the Brick Pantry. The pantry is then open to the community Monday-Thursday from 11-200pm or by appointment. Twice a month DoorDash delivers Food Gatherers for Brick to our families. View the full event details here: https://events.dudesolutions.com/lincolnk12/event/brick-food-pantry-food-gatherers-10/

9:00 AM to 11:00 AM

Brick Elem Picture Retakes Day

Calendar:

District Event Calendar

View the full event details here: https://events.dudesolutions.com/lincolnk12/event/picture-retakes-day/

2:00 PM to 11:45 PM

Location:

PAC Dressing Rooms,Theatre Rehearsal Space,PAC ALL - Seating/Stage/Lobby

Calendar:

District Event Calendar

View the full event details here: https://events.dudesolutions.com/lincolnk12/event/elf-the-musical/

4:15 PM to 7:00 PM

LMS Boys Basketball HOME Games

Calendar:

District Event Calendar

Lincoln Grey vs. Bedford View the full event details here: https://events.dudesolutions.com/lincolnk12/event/lms-boys-basketball-home-games/

5:15 PM to 6:15 PM

LHS Switzerland/Mediterranean Student Trip Parent Informational Night- Room 511

Location:

Specify Room(s) in Task

Calendar:

District Event Calendar

View the full event details here: https://events.dudesolutions.com/lincolnk12/event/switzerlandmediterranean-student-trip-parent-informational-night--room-511/

17

Nov 17

9:00 AM to 2:00 PM

Bishop Picture ReTake Day

Location:

Specify Room(s) in Task

Calendar:

District Event Calendar

View the full event details here: https://events.dudesolutions.com/lincolnk12/event/bishop-picture-retake-day/

2:00 PM to 11:30 PM

Location:

PAC Dressing Rooms,Theatre Rehearsal Space,PAC ALL - Seating/Stage/Lobby

Calendar:

District Event Calendar

View the full event details here: https://events.dudesolutions.com/lincolnk12/event/elf-the-musical-1/

18

Nov 18

10:00 AM to 4:00 PM

MHSAA Football Semifinal - Corunna vs. Flat Rock

Location:

LHS Stadium Track,LHS Stadium Turf

Calendar:

District Event Calendar

1 p.m. Kickoff - Gates open to the public at 11 a.m. View the full event details here: https://events.dudesolutions.com/lincolnk12/event/mhsaa-football-semifinal---corunna-vs-flat-rock/

2:00 PM to 10:00 PM

Location:

PAC Dressing Rooms,Theatre Rehearsal Space,PAC ALL - Seating/Stage/Lobby

Calendar:

District Event Calendar

View the full event details here: https://events.dudesolutions.com/lincolnk12/event/elf-the-musical-2/

19

Nov 19

8:30 AM to 4:00 PM

Location:

PAC Dressing Rooms,Theatre Rehearsal Space,PAC ALL - Seating/Stage/Lobby

Calendar:

District Event Calendar

View the full event details here: https://events.dudesolutions.com/lincolnk12/event/elf-the-musical-3/

20

Nov 20

4:15 PM to 7:00 PM

LMS Boys Basketball HOME Games

Calendar:

District Event Calendar

Lincoln Blue vs. Mill Creek View the full event details here: https://events.dudesolutions.com/lincolnk12/event/lms-boys-basketball-home-games-7/

5:30 PM to 7:00 PM

BOE Executive Committee Meeting

Calendar:

District Event Calendar

View the full event details here: https://events.dudesolutions.com/lincolnk12/event/boe-executive-committee-meeting-7/

6:00 PM to 8:00 PM

Board Of Education Meeting - Rescheduled from 11/13

Location:

BOE Conference Room

Calendar:

District Event Calendar

View the full event details here: https://events.dudesolutions.com/lincolnk12/event/board-of-education-meeting---rescheduled-from-1113/

21

Nov 21

7:00 AM to 8:00 AM

End of Marking Period - Elementary

Location:

All School District Master Calendar

Calendar:

District Event Calendar

View the full event details here: https://events.dudesolutions.com/lincolnk12/event/end-of-marking-period---elementary/

22

Nov 22

7:00 AM to 8:00 AM

Location:

All School District Master Calendar

Calendar:

District Event Calendar

Thanksgiving Recess. School resumes Nov. 27th View the full event details here: https://events.dudesolutions.com/lincolnk12/event/no-school-4/

23

Nov 23

12:00 AM to 11:59 PM

LAB CLOSED (Thanksgiving)

Calendar:

District Event Calendar

View the full event details here: https://events.dudesolutions.com/lincolnk12/event/lab-closed-thanksgiving/

7:00 AM to 8:00 AM

Location:

All School District Master Calendar

Calendar:

District Event Calendar

Thanksgiving Recess. School resumes Nov. 27th View the full event details here: https://events.dudesolutions.com/lincolnk12/event/no-school-5/

24

Nov 24

7:00 AM to 8:00 AM

Location:

All School District Master Calendar

Calendar:

District Event Calendar

Thanksgiving Recess. School resumes Nov. 27th View the full event details here: https://events.dudesolutions.com/lincolnk12/event/no-school-6/

25
26
27

Nov 27

4:15 PM to 7:00 PM

LMS Boys Basketball HOME Games

Calendar:

District Event Calendar

Lincoln Grey vs. Beach View the full event details here: https://events.dudesolutions.com/lincolnk12/event/lms-boys-basketball-home-games-1/

6:00 PM to 8:00 PM

Board Of Education Meeting

Location:

BOE Conference Room

Calendar:

District Event Calendar

View the full event details here: https://events.dudesolutions.com/lincolnk12/event/board-of-education-meeting-9/

28

Nov 28

5:30 PM to 6:30 PM

Centennial Committee Meeting

Location:

BOE Conference Room

Calendar:

District Event Calendar

View the full event details here: https://events.dudesolutions.com/lincolnk12/event/centennial-committee-meeting-1/

6:00 PM to 7:30 PM

Winter "Meet the Teams" Kickoff!

Calendar:

District Event Calendar

Join us to celebrate the start of winter sports. Meet players & coaches and get fired up for the start of basketball, bowling, cheer, dance, swim, and wrestling seasons! View the full event details here: https://events.dudesolutions.com/lincolnk12/event/winter-meet-the-teams-kickoff/

29

Nov 29

4:15 PM to 7:00 PM

LMS Boys Basketball HOME Games

Calendar:

District Event Calendar

Lincoln Blue vs. Jackson View the full event details here: https://events.dudesolutions.com/lincolnk12/event/lms-boys-basketball-home-games-8/

5:30 PM to 6:30 PM

School Grants Community Forum - Virtual Meeting

Location:

All School District Master Calendar

Calendar:

District Event Calendar

View the full event details here: https://events.dudesolutions.com/lincolnk12/event/school-grants-community-forum---virtual-meeting/

5:30 PM to 7:30 PM

Brick STEM Family Sports Event

Location:

Gym,Brick Whittaker Room,Specify Room(s) in Task

Calendar:

District Event Calendar

Showcase different STEM sports projects that the students have made here at school during STEM special. Families will come and play the games together. View the full event details here: https://events.dudesolutions.com/lincolnk12/event/stem-family-sports-event/

30

Nov 30

8:00 AM to 9:00 AM

Brick Food Pantry (Food Gatherers)

Location:

Community Action Network

Calendar:

District Event Calendar

Food Gatherers delivers food once week on Thursday for the Brick Pantry. The pantry is then open to the community Monday-Thursday from 11-200pm or by appointment. Twice a month DoorDash delivers Food Gatherers for Brick to our families. View the full event details here: https://events.dudesolutions.com/lincolnk12/event/brick-food-pantry-food-gatherers-11/

5:30 PM to 6:30 PM

LHS Mens Freshman Basketball HOME Game

Calendar:

District Event Calendar

Lincoln vs. Tecumseh View the full event details here: https://events.dudesolutions.com/lincolnk12/event/lhs-mens-freshman-basketball-home-game-10/