Opening Letter to Lincoln Consolidated Middle School Community- August 2021
Hello Middle School Students, Families and Staff,
Welcome Back!!! It is a privilege to say hello and welcome everyone back for another year of teaching and learning at Lincoln Middle School. I am excited to start my 5th year as the building principal and to ensure we focus on the whole child academically, behaviorally, and socially. My main goal is to ensure that social-emotional learning and care are available to all community stakeholders while assuring we address the academics and uncertainty of our health crisis that is prevalent throughout the world.
The past year has been very challenging for all as we battled how to educate ourselves and students during a global pandemic. Although no one could have predicted this would truly come to be, we dug in and worked collaboratively to provide students with an educational platform under very stressful times. I am very happy to say our staff and community did an outstanding job working within these parameters to provide students with a good educational experience in spite of the many obstacles. For this reason and many more, we have grown and are better for it.
As we look forward to the 21-22 school year, we are excited to have students back into the building! We understand that this will be an exciting time for all, but for some a time of adjustment and perhaps some anxiety. Please rest assured we will help students and parents navigate this time period. We also know that many students worldwide have struggled and there will be some learning gaps due to our past experience but as we work together I am optimistic that our students will show good growth both academically and socially this year.
In addition, we will have our extracurricular activities available for students. All sporting teams and after-school clubs will be made available for students in the fall. We will continue with our Students of the Month recognitions which will begin in October. We will also have a Fall Icebreaker and Open House (after school dance-6 pm-8 pm) in early September as well as our Trunk and Treat (October) and our Why You Matter campaign. We are looking for family members to be involved with our Parent Group. We will meet only once a month and you are welcome and encouraged to have a voice in your child's educational experience. Mrs. Diane Cofield has been our parent leader for the last 3 years and she has done a fabulous job. Please get involved and help us make your student's educational experience the best it can be. We will share more about the Parents' Group at the student orientation. When you come to our student orientation, you will be able to sign up and learn more about it.
Finally, let's remember that we are supporting middle school students and we must not put too much-added pressure on them to be perfect, but ensure we support them along this journey. As your principal, I implore you to be more focused on your student's application of learning and collaboration skills more than grades at this time. Middle School is a challenging time for all young people, make sure we remember this as we navigate these new waters together.
As many of you know, my door is always open for comments and suggestions which support students and the community. Let's go Railsplitters!!!
Please see the following important dates and mark your calendar accordingly:
Wednesday and Thursday, August 18th & 19th
8th grade Web Training- 8 am - Noon
Monday, August 23rd
6th-grade Orientation- 8 am to 12 pm: Note( open to new students as well)
Monday, August 30th 1st
First Day of School!!!
Wednesday, September 1st
Open House- 6 pm to 8 pm (Come meet your student's teachers!)
Friday, September 10th
Why You Matter Ice Breaker Dance- 6 pm to 8 pm -Tentatively
(Let's have some fun!)
Respectfully,
Tim K. Green, Principal
2021/2022 School Supply List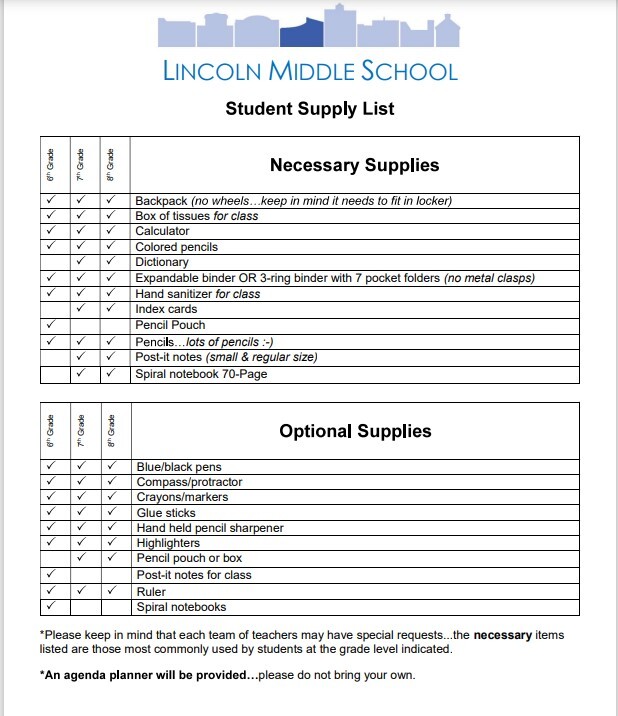 Picture Retake Day is October 15th.
Some reminders as we return to sports...
- Physicals are back! Last year's pause on the athletic physical requirement is over and new physicals are required for the new year. 2021-22 physicals must be dated after April 15, 2021.
- Update your Athletic Registration through Planet HS. All athletic registration is now managed online - no more trips into the athletic office. Make sure your registration is fully completed in order to start practice.
- We're monitoring COVID rules and guidance from the Michigan Department of Health and the MHSAA. We'll stay in line with those requirements as they come. Practice starts with mask requirements in the building - for everything except in competition. Most important to us is that kids and families feel safe!

Cross Country Fall 2021 Information
Football returns to the middle school for 7th and 8th graders. We hope to have one 7th grade team AND one 8th grade team - but WE NEED YOU! We need 40 players at the Middle School level to offer a team at each grade level - be a part of Lincoln Football!
Official practice starts after school the week of August 30th, but we'll take players for the next two weeks! Get your athletic registration and physical completed before the first practice!
Our MS Football program uses Team App - go to TeamApp.com and search "Lincoln Football" for all details - ask for permission to join the MS team, because all of our HS & MS teams info is there in one spot!
Volleyball returns to the middle school for 7th and 8th graders. We'll have one or two 7th grade teams...and one or two 8th grade teams! We're able to offer spots to up to 24 kids in each grade, so no worries about tryouts or cuts. Give Volleyball a try!
Practice starts after school on Tuesday, September 7th. Get your athletic registration and physical completed before the first practice!
Our MS Volleyball program uses Team App - go to TeamApp.com and search "Lincoln Volleyball" for all details - ask for permission to join the MS team. All of our HS & MS teams are there!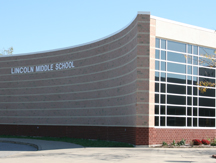 Principal
Timothy Green

Lincoln Middle School
Assistant Principal
Lori Ferguson

Lincoln Middle School
Dean of Students
Patricia Barthwell

Lincoln Middle School
8744 Whittaker Road
Ypsilanti, MI 48197
Office Hours resume August 10, 2021
Middle School Office:

Absences:
or (734) 484-7033
School Hours
School: 8:00 AM - 2:57 PM
Half-day:
8:00 AM - 10:57 AM
Early Release:
8:00 AM - 12:43 PM
Athletic Office:
Office: (734) 484-7013
Fax: (734) 484-7020

Tech Support:


Transportation:
(734) 484-7079
2021/2022 Master School Calendar and Events
2021/2022 Master School Calendar
6th Grade and New Student Orientation
Monday, August 23rd, 8:00 am-Noon
First Day of School
Monday, August 30th
6-12 full day 8:00 am-2:57 pm
Open House
Wednesday, September 1st
5:00-6:30 pm
LMS & District Calendar
LMS & District Calendar

Previous

September

2021

Next

S
M
T
W
T
F
S
1
2
3

Sep 3

No School-Labor Day Recess

Calendar:

District Calendar

4
5
6

Sep 6

No School-Labor Day Recess

Calendar:

District Calendar

7

Sep 7

5:30 PM

Board Executive Committee Meeting

Location:

Central Office Conference Room

Calendar:

District Calendar

8
9
10
11
12
13

Sep 13

4:00 PM

Board Planning Committee Meeting

Location:

Central Office Conference Room

Calendar:

District Calendar

6:00 PM

Board of Education Meeting

Location:

LHS Media Center

Calendar:

District Calendar

14
15
16
17

Sep 17

Students Released Early; Professional Learning P.M. Dismissals: LHS - 11:54 a.m., LMS - 12:43 p.m., Childs - 12:41 p.m., Brick/Bishop - 1:41 p.m.

Calendar:

District Calendar

18
19
20

Sep 20

5:30 PM

Board Executive Committee Meeting

Location:

Central Office Conference Room

Calendar:

District Calendar

21
22
23
24
25
26
27

Sep 27

4:30 PM

Board Performance Committee Meeting

Location:

Central Office Conference Room

Calendar:

District Calendar

6:00 PM

Board of Education Meeting

Location:

LHS Media Center

Calendar:

District Calendar

28
29
30