Students

Click on this link to provide important information to your teachers. Only people with a lincolnk12.org email will be able to respond.

Students may come to
the Pantry with a pass
from staff during open times.
Parents are welcome to
shop at these times.
Parents may also contact
our counseling office
[734-484-7085] to schedule an appointment.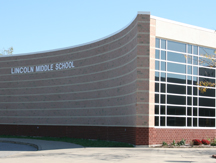 Principal
Timothy Green

Lincoln Middle School
Assistant Principal
Lori Ferguson

Lincoln Middle School
Dean of Students
8744 Whittaker Road
Ypsilanti, MI 48197
734-484-7033
734-484-7088 Fax
School Hours
Office: 7:00 AM - 3:30 PM
School: 7:40 AM - 2:36 PM
Half-day: 7:40 AM - 10:36 AM
Early Release: 7:40 AM - 12:23 PM
Absences: (734) 484-7033 or gamboet@lincolnk12.org
All other inquiries: huling@lincolnk12.org
Athletic Office:
(734) 484-7013

Transportation:
(734) 484-7044
Events Occurring Soon
Virtual Reading in the Park

Location:

Virtual/ Youtube: Lincoln Railsplitter Channel

Calendar:

District Calendar

Lincoln PTO will host virtual Reading in the Park

Board of Education Meeting

Location:

LHS Media Center

Calendar:

District Calendar

Virtual Reading in the Park

Location:

Virtual/ Youtube: Lincoln Railsplitter Channel,

Calendar:

District Calendar

Lincoln PTO will host virtual Reading in the Park