Welcome to Splitter Nation!
Here at Lincoln High School, we are committed to creating and maintaining an environment of academic rigor and relevance. We understand that caring relationships are the key to our learning culture and take pride in the community we have developed. Helping our students achieve their goals and become outstanding members of our community is the sole focus of every staff member at LHS. From first thing in the morning to well into the night, our staff is eager to offer a multitude of opportunities for learning and maturing within our educational system. These four years are filled with possibilities and we are excited to share the adventure with you.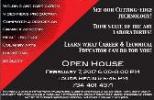 SWWC Open House
South West Washtenaw Consortium - Career and Technical Education Open House. Tuesday, Feb. 7th from 6:00 - 8:00 pm at Saline High School, 1300 Campus Parkway, Saline, MI. 48176. Tours begin at 5:45. If you are interested in taking Career and Technical Education Classes please visit the open house.

2016-17 Early Release Days
Early Release is scheduled on Friday, January 13 for staff to attend Professional Development. Secondary schools will dismiss students at 12:23 pm. Childs Elementary will dismiss students at 1:11pm. Brick and Bishop Elementary schools will dismiss students at 1:26 pm.
More...
Attendance when your child is under the weather
Kindergarten + 1st grade are critical educational years for a child. Missing school during these early years makes it more difficult for children to learn in later years, and they often have trouble reading by the end of third grade.
More...

Automated Attendance Calling
Lincoln Schools sends automated attendance calls every evening at 6:00 pm. A call will be made for any student that is marked unexcused during the school day. Anytime your student is absent it's important to contact the school office. LHS - 484-7055 / LMS - 484-7033 / Bishop - 484-7074 /Brick - 484-7031 / Childs - 484-7035
Now Accepting School of Choice Applications!
2016 -2017 School of Choice second semester applications are now available and being accepted until January 27, 2017.
More...

Winter Weather Closing Protocol
As winter weather is now upon us, it is important that families and staff are notified of school closings as soon as possible so plans can be made for an unexpected no-school day. If the weather cooperates we always attempt to make the call the night before. But more likely the school closing decision won't be made until the middle of the night, but usually no later than 4:00 a.m.
More...

LHS After-School Tutoring
Free tutoring begins on Tuesday, September 27, and continues though the school year on Tuesdays and Thursdays from 2:45 p.m. to 4:00 p.m. in the high school media center. Please BE PREPARED and BE ON TIME! (Late students should have a pass.) Bring all needed school materials so that you are ready to work: rough drafts, notes, textbooks, assignment details, calculator, etc. Tutoring staff includes: LHS faculty, LHS National Honor Society students, and local university students.
More...