In an effort to improve system practices, Lincoln Middle School is conducting a Parent and Student Survey. We value your opinion and ask that you take the time to complete this survey.
Please be assured that your responses to this survey will be anonymous. Your honest opinion is appreciated.
| | |
| --- | --- |
| Parent Survey | Student Survey |
| | ​​ |
Students may wear school appropriate costumes:

No Masks!

No Weapons!

No Gore!

Parents will be parked in the west staff parking lot with the trunks of their cars open and pass out treats to the students as they go to each car in trick or treat fashion. (Last lunch ends at 1:05 pm)

Parents, please send treats to the school office starting immediately.
Parents, please sign up to help. Click on the link below to download the parent form that was sent home this week (October 11th).
Spotlights

Automated Attendance Calling
Lincoln Schools sends automated attendance calls every evening at 6:00 pm. A call will be made for any student that is marked unexcused during the school day. Anytime your student is absent it's important to contact the school office. LHS - 484-7055 / LMS - 484-7033 / Bishop - 484-7074 /Brick - 484-7031 / Childs - 484-7035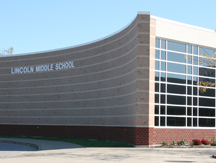 Principal
Timothy Green

Lincoln Middle School
Assistant Principal
Jeff Petzak

Lincoln Middle School
Dean of Students
Lori Ferguson

Lincoln Middle School
8744 Whittaker Road
Ypsilanti, MI 48197
734-484-7033
734-484-7088 Fax
School Hours
Office: 7:00 AM - 3:30 PM
School: 7:40 AM - 2:36 PM
Half-day: 7:40 AM - 10:36 AM
Early Release: 7:40 AM - 12:23 PM
Absences: (734) 484-7033 or gamboet@lincolnk12.org
All other inquiries: huling@lincolnk12.org