Student and Parent Responsibilities
ADDITIONAL 2020-2021 HEALTH AND SAFETY RULES

Masks are required to be worn (correctly) by all students while boarding, riding, and exiting the school bus.

Hand sanitizer will be provided and must be used by all students when boarding the bus.

Seats will be assigned by the driver, and students must comply. Siblings will be assigned to sit together in a seat.

We are implementing a 3-STRIKE policy. Any violation of the bus rules will result in a verbal warning followed by a 3-day suspension, and finally, bus suspension for the year.

Not riding the bus for 4 consecutive days will result in being removed from the route and asked to re-register which may result in being added to a waiting list.

The buses will be sprayed with a COVID killing disinfectant after each use.

Social distancing is not possible on the school bus and should not be expected. Our drivers will assign seats with as much spacing as possible, based on the number of riders registered for the route.

Our drivers will wear a face covering while students are boarding and exiting the bus.

They may lower their mask while driving when it interferes with the safe operation of the vehicle.

The health and safety of our staff is important to us as is the health and safety of our students. Please perform self-checks at home, and DO NOT send your student with any COVID or other illness symptoms.
STUDENT RESPONSIBILITIES
AT THE BUS STOP, STUDENTS WILL...
Arrive at the bus stop 10 minutes prior to scheduled pick-up time.
Stay off roadway while waiting for the bus.
Wait until the bus comes to a complete stop before getting on or off the bus.
When crossing is necessary and permitted, a student will always cross 10 feet in front of the bus after waiting for the driver's hand signal.
NEVER get mail or go to the mailbox while the school bus is at the bus stop.
No student is allowed to cross over a road to get on or off a bus at a different assigned time or stop.
WHILE ON THE BUS, STUDENTS WILL...

Occupy their seats and to refrain at all times from moving around in the bus.
All belongings, including band instruments, are to be held on the student's lap during transportation.
Behave in a manner which allows the driver to safely operate the vehicle.
Obey the bus driver at all times.
Keep entire body inside the bus at all times.
Talking is NOT permitted at railroad tracks.

APPROPRIATE BUS BEHAVIOR

Avoid loud, inappropriate and/or profane language. (Use "inside voices" to prevent driver distraction)
No eating or drinking on the bus.
Damages to any bus should be reported to the driver. Students will pay for any damages they cause on any bus.
Students will never throw anything inside the bus or out the window of a bus.
Students may not possess or consume alcoholic beverages.
Students shall not possess/smoke any type of tobacco, vaping devices or any other drugs on the bus.
Students shall not possess or use cigarette lighters, matches, or other flammable items on buses.
Weapons of any kind are not permitted on a school bus.
Public displays of affection are not acceptable behavior and will not be tolerated.
Never tamper with bus equipment.
THINGS THAT SHOULD NOT BE BROUGHT ON THE BUS

Live animals/insects
Rakes/shovels
Hockey sticks/ bats/ golf clubs
Anything made of glass
School projects with objects that could be considered dangerous, such as sticks, toothpicks, sharp objects, chemicals, etc.
Food or drinks including water bottles
Large band instruments which take up space on seat

PARENT/GUARDIAN RESPONSIBILITIES
Students need to be at the bus stop at least ten (10) minutes prior to the scheduled pick up time. Buses cannot wait for late students and will not return to pick them up when they have missed the bus.
For the safety of all concerned, students are asked to stay a minimum of 10 feet away from the designated pickup stop while waiting for the school bus.
Vehicles are required to stop a minimum of 20 feet away from the bus.
PARENTS/GUARDIANS are responsible for the following...

Making sure their children get to and from the designated stop safely.
Selecting their children's walking routes to and from bus stops.
Providing supervision that is appropriate to the student's age, maturity, and conditions that exist on the walk route.
MUST have a responsible person at pick up and drop off location for Pre-K and Kindergarten students.
Provide alternative transportation for their students if oversized objects or live animals must be transported to and from school, or when a students bus riding privileges are suspended.
Know their children's bus identification letter/number and stop location.
Know the bus rules and review them with their children.
Direct walk route safety concerns to the association or law enforcement agency responsible for the specific location/area.
Students are NOT permitted to ride a bus other than their assigned bus. Assigned students have priority for transportation. If a child needs to go to a friend's house, parents must make alternate transportation arrangements.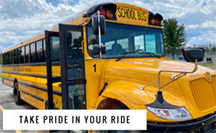 CHANGE IN BUS PLANS

Bus transportation is primarily designed for the transport of students from home to school and school to home. Stops must be the same location every morning and the same location every afternoon. If permanent changes are needed (a different day care for example) parents must submit the Change of Destination Request to the Transportation Department. The request will be reviewed and notification will be made if a change can be accommodated. This process can take up to two weeks to complete. There must be a compelling reason for any change.
Students are NOT permitted to ride a bus other than their assigned bus. Assigned students have priority for transportation. If a child needs to go to a friend's house, parents must make alternate transportation arrangements.
LOST AND FOUND ITEMS
All lost and found items generally remain on buses for up to 1 (one) week. Drivers then turn all found/unclaimed items into the Transportation Office. It is helpful to place names on all articles sent to school with your child(

ren

).
All articles of clothing not claimed after one month will be donated to a local charity.