Transportation Hotline 734-484-7079
Dear Lincoln Consolidated Families,
The Transportation Department's employees are the first district employees to greet your students in the morning and the last district employees to see them in the evening. We do not simply transport students from home to school and back again. We strive to safely transport students so that they are emotionally prepared to be educated.
Bus transportation is an important function at Lincoln Consolidated Schools. Bus transportation is not mandated by law, but provided as a service to the students of the District. In order for transportation to work, we must have the cooperation of parents and students.
We believe the information contained in the following policies will help everyone understand the importance of student transportation. The Michigan Department of Education, the Legislature, and the Michigan State Police also develop rules and regulations that govern the activities of the Transportation Department. Please click here for the Michigan Department of Education Pupil Transportation FAQ.
Please note: video cameras will be in use on any LCS transportation vehicle.
ALL FAMILIES MUST REVIEW THE TRANSPORTATION RULES EACH YEAR.
---
COMING SOON
New Ridership information.

Information on how Covid will effect your students transportation to school.
Fax: 734-484-7073
Office Hours
6:00 AM - 5:00 PM
Transportation Hotline:
(734) 484-7079
---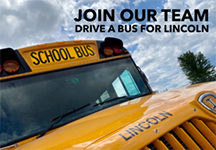 ---
HALF DAY AND EARLY RELEASE
Half day drop off times are approximately 4 hrs earlier than your students normal drop off time.

Early release drop off times are approximately 2 hrs 15 min earlier than your students normal drop off time.